Twice Baked Baby Potatoes with Broccoli and Cheddar
This veggie side dish is perfect for a holiday or special dinner. Healthy Twice Baked Baby Potatoes are made from a handful of ingredients. Broccoli and cheddar cheese made the most delicious flavor addition.  Little potatoes make this dish super kid-friendly and fun. However, you can use larger potatoes if you want to save on time or don't have baby potatoes on hand.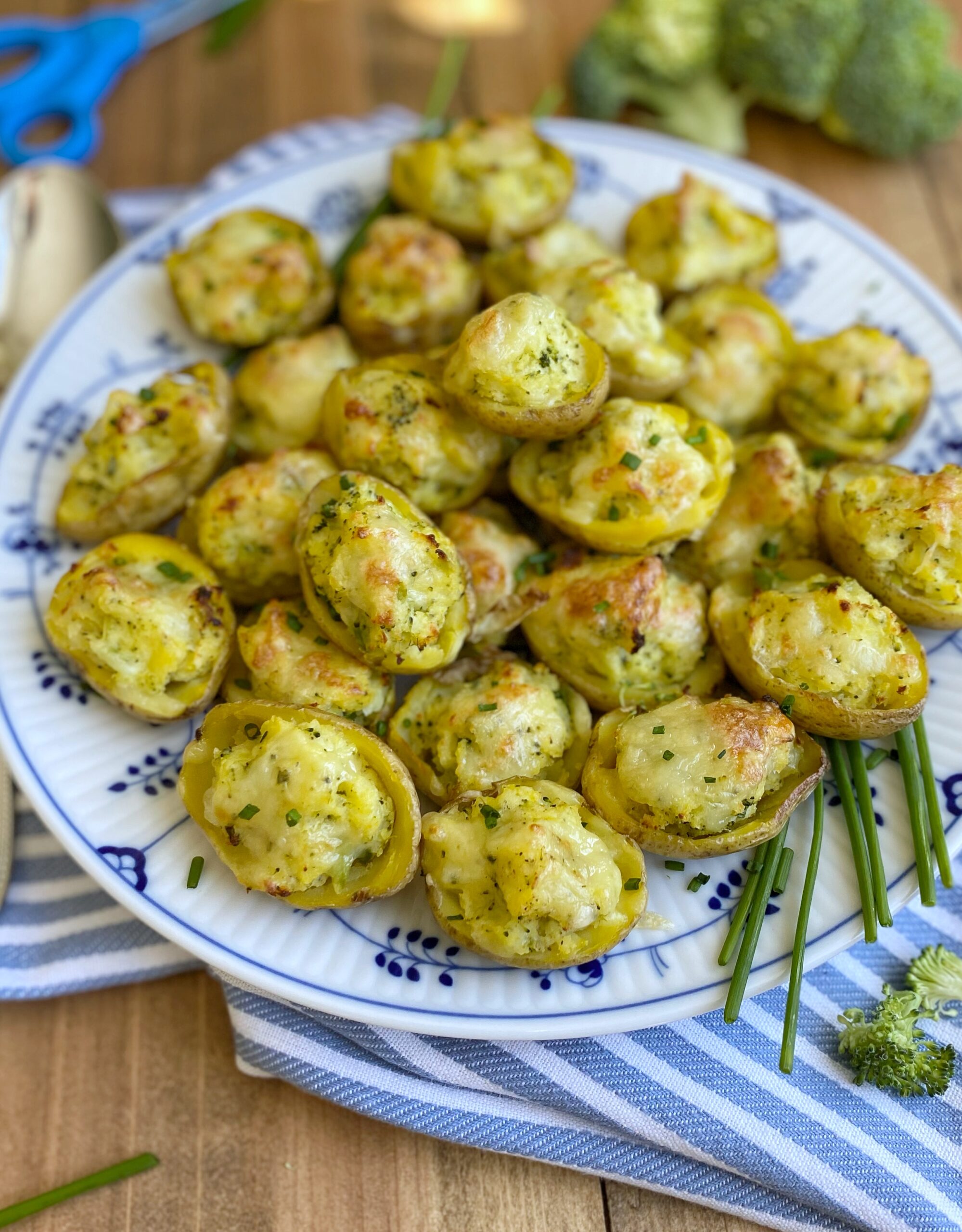 Kids in the Kitchen: Twice Baked Baby Potatoes
Wash the veggies: this is such an easy way for any aged child to help make this dish. Kids can rise and dry the potatoes before cooking and wash the broccoli as well.
Chop the broccoli: Once the broccoli is cooked and cooled it's super easy for little chefs to use a child-safe knife or even a butter knife to cut through and make super small.
Snipping the chives: Kids scissors are a great tool to use in the kitchen. Grab a pair of your kiddos scissors and give them a good wash with soap. For toddlers and younger kids, hold the chives and scissors with your child so you can make sure they cut safely. Older kids can attempt cutting chives into tiny pieces on their own.
Mash and mix: Kids will love to mash the cooked potato and then dump in the rest of the ingredients. They can then help stir everything together. If you are stuffing mini potatoes, filling them might be a little tricky for toddlers and  younger kids. However, older kids can definitely take on this task.
Top with cheese: Kids can take a pinch of cheese and place it on each stuffed potato before they get baked in the oven.

Subs and Tips for Twice Baked Baby Potatoes:
Larger potatoes: If you don't have mini potatoes or want to make this dish a little quicker, using large potatoes is a great option. They will take longer to cook at first but then you'll be able to stuff them much easier. Use about 4 medium to large sized baking potatoes or Yukon Gold potatoes.
Dairy-free: You can definitely make this recipe dairy-free with a few swaps. Use a dairy-free cheese or leave out the cheddar entirely. For the yogurt, use a unflavored, unsweetened coconut yogurt or other yogurt alternative.
No broccoli: No problem. You can easily leave out the broccoli or add in whatever cooked vegetables you'd like. Some chopped spinach would work well.
Make ahead: These are great made one or two days before you want to serve them. I would make them up until the step where you bake them. Then before you serve them, top them with cheese and bake.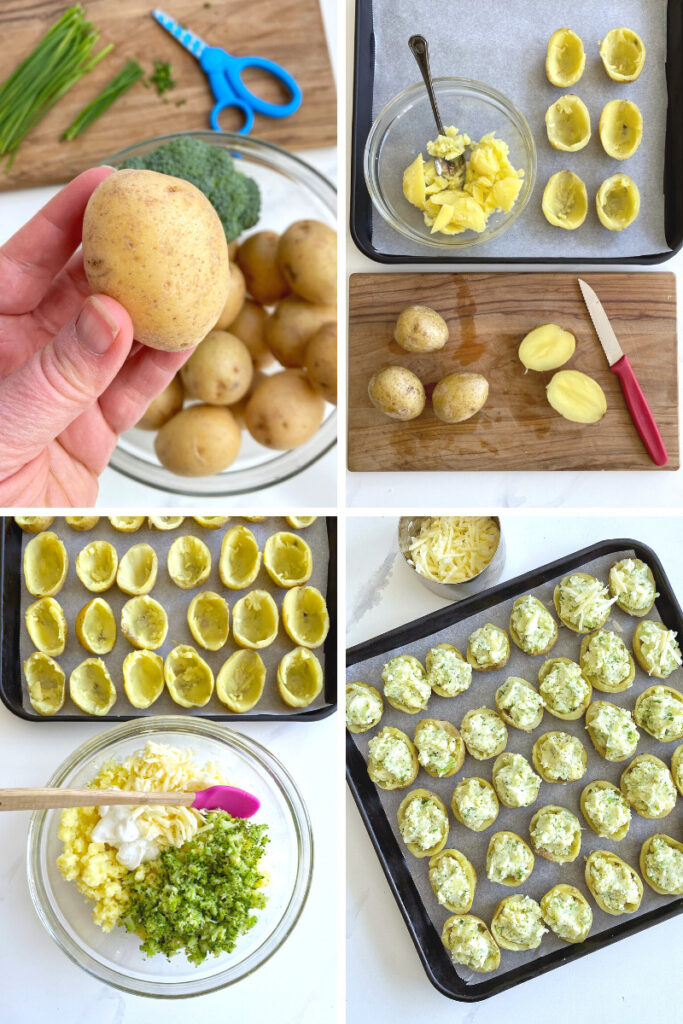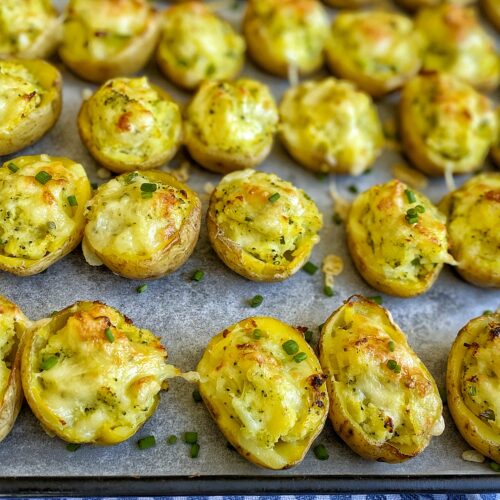 Broccoli Cheddar Stuffed Baby Potatoes
A handful of healthy ingredients make this special veggie side dish.
Ingredients
24

oz

small yellow potatoes or 4 larger Yukon gold or baking potatoes

about 15

3

oz

broccoli florets (about 2 cups)

1/3

cup

plain Greek yogurt

I use full-fat but any kind will work

2

Tbsp

extra virgin olive oil or melted butter

2

Tbsp

snipped chives, plus more for garnish

4

oz

grated cheddar cheese

about 1 cup

Salt and pepper, to taste
Instructions
Add potatoes to a large pot and cover halfway with water. Sprinkle with 1 teaspoon of salt. Bring the pot up to a boil then cover and reduce the heat to a simmer. Cook until potatoes are tender and a knife easily slides in and out. Drain potatoes into a collander and set aside to cool.

Add broccoli and 1 cup of water to the now empty pot. Cover and place over medium heat. Steam the broccoli until fully cooked. Place drained broccoli on a cutting board to cool.

Preheat oven to 425 degrees.

Once potatoes are cool enough to handle, cut them in half lengthwise. Carefully scoop out most of the inside of the potato flesh and place it in large bowl. I like to use the tip of a pairing knife to score a line around the inside of the potato to make it easier to scoop. Don't worry if the potato skin breaks a little, you can fix it later. Place all the potato skins on a baking sheet.

Finely chop the cooked broccoli and add it to the potato in the bowl. Using a potato masher or large fork, rough mash the potato until no large pieces remain. Stir in the olive oil/butter, yogurt, chives, and half of the grated cheese. Season with salt and pepper to taste. (Make sure you taste it! Potatoes need a good amount of salt to taste their best.)

Fill each potato skin with the mashed potato and broccoli mixture. Top with the remaining cheese. Bake until cheese is golden brown, about 15 minutes. Serve warm.
Save to Pinterest!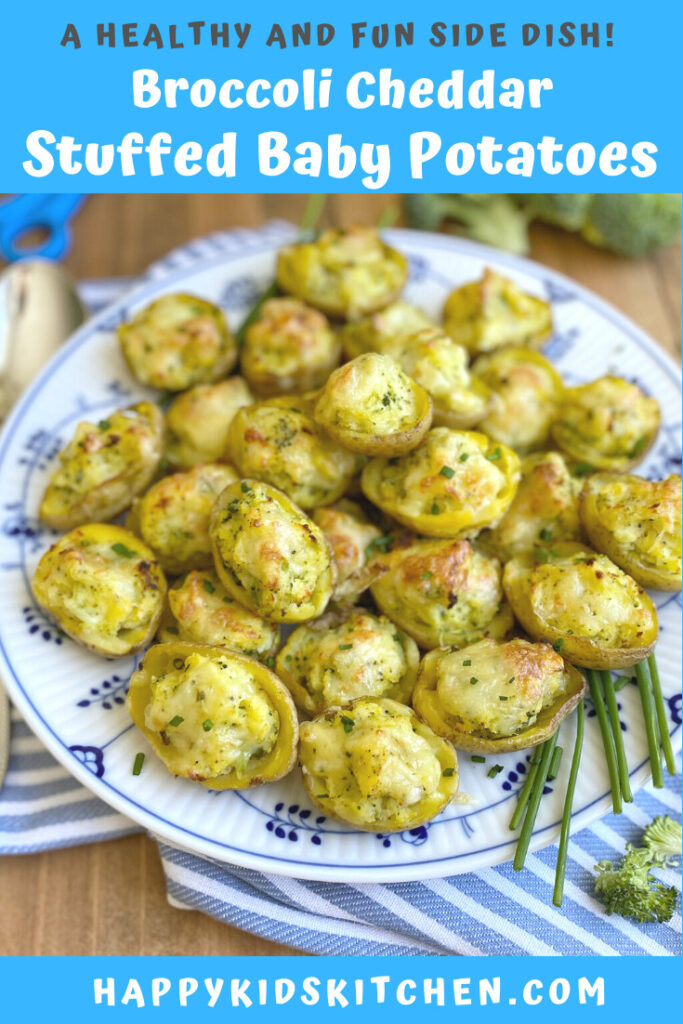 Other recipes to try:
Turkey and Veggie Shepherd's Pie 
The best Veggie recipes for Kids