The Best Veggie Recipes for Kids
Let's teach our kids that vegetables can be flavorful, delicious, and fun! I gathered up all my best veggie-focused as well as recipe from other family friendly blogs I trust to create a comprehensive list of the best veggie recipes for kids. If you ever have a veggie on hand that you're not sure what to do with or how to help your family enjoy them more, take a look at this list for inspiration. Keep this post saved on Pinterest or your phone for easy reference. Also, if you have a favorite veggie recipe or if I left any veggie out of the post, please leave a comment below and I'll add it in.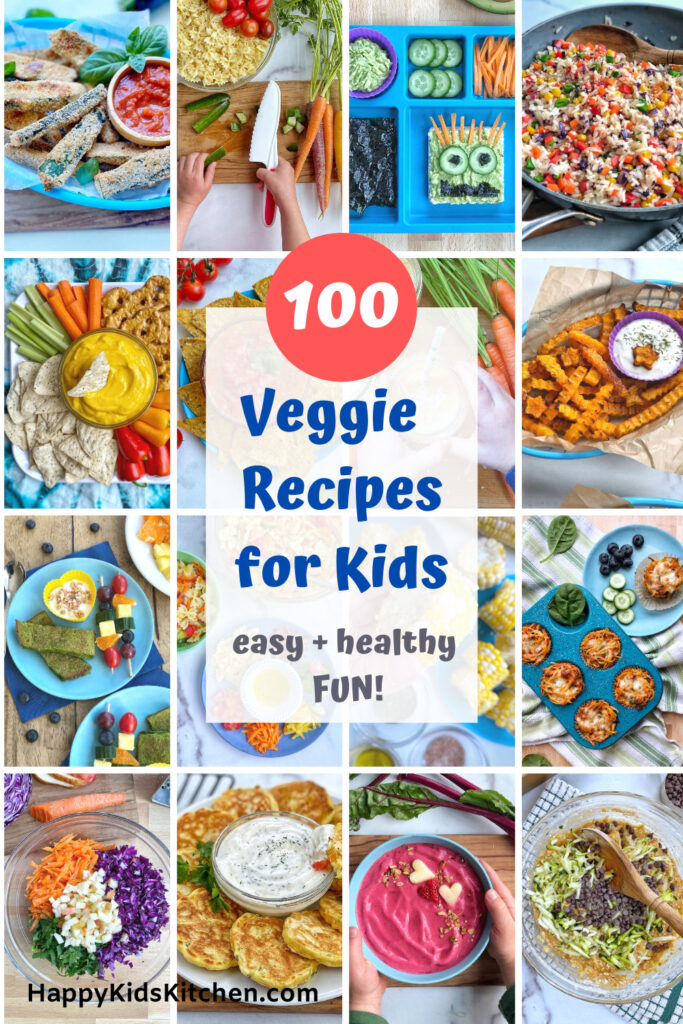 Asparagus
Crustless Potato and Asparagus Quiche: A delicious and easy breakfast, lunch, or dinner recipe that I developed for The Natural Nurturer blog. Super versatile too-can add pretty much any veggie in there!
How to Cook Asparagus in the Oven: how-to guide from Yummy Toddler Food if asparagus if it's a new veggie for your family or if you just want to keep it simple.
Asparagus Ribbon Salad: I love this inventive recipe from Weelicious. You use a peeler to shave raw asparagus then toss the ribbons in a yummy dressing.
Lemon-Butter Zoodle Pasta with Roasted Asparagus: How yummy does this meal on Veggie Buds Club blog sound?
Easy Asparagus and Peas: this simple saute of fresh spring veggies would be a great dinner side dish. Love the addition of fresh herbs in this recipe by My Diary of Us.
Avocado
Green Toad Toasts: mashed avocado makes the best base to add creative toppings and make some easy food art. These frogs were inspired by the children's book Little Blue Truck. The Monster Toasts from by free ebook, Easy Snacktivities, are also a fun spin on the classic avocado toast.
Easy Avocado Pasta: A great recipe by Yummy Toddler Food for pasta loving kids. There is spinach in this simple, nutritious recipe.
Veggie-Loaded Mint Chocolate Chip Smoothie: this sweet drink on The Natural Nurturer has zucchini, spinach, and avocado but it taste like ice cream. Definitely worth a try if you have a veggie skeptic at home.
Avocado Hummus: such a creative spin on hummus and a great way to use avocado. Recipe on Weelicious.com
Beets
Heart Beet Smoothie Bowls: a sweet and creamy way to enjoy beets! Make a a thick smoothie bowl or add a little more liquid and drink it through a straw. Kid will love the vibrant pink color of this smoothie!
Beet Black Bean Burgers: this is an easy, one-bowl veggie burger that I developed for the Veggie Buds Club. Raw beet is grated into the bean mixture so that beet taste is mild and the dish is very kid-friendly.
Kid-Friendly Pink Beet Pancakes: pink pancakes? What kiddo wouldn't like these? This is an easy, healthy recipe from the queen of veggies, The Natural Nurturer.
Strawberry Beet Applesauce: what a creative and kid-friendly recipe on The Natural Nurturer. This sweet, pink applesauce would please any kiddo!
The Best Beet Hummus: bright pink and so full of flavor, this hummus on The Natural Nurturer blog is perfect for any dip lover.
Bell Peppers
Rainbow Veggie Pancakes: peppers are the key, colorful ingredient in this savory, super kid-friendly pancake recipe. I love making this one with my preschool and toddler students. They gobble them up!
Healthy Taco Stuffed Peppers: my recipe on The Natural Nurturer blog is perfect for Taco Tuesday! The filling is packed with veggies and a little melted cheese over the top makes it super kid-friendly.
Mini Pepper Pizza Poppers: similar to the peppers above but the pizza version. My recipe on Veggie Buds Club blog features quinoa or rice flavored with tomato sauce and cheese then baked in mini bell peppers.
 Roasted Red Pepper Almond Dip: if your family is into dips, this looks like an awesome way to use some roasted peppers. A post on how to roast pepper is linked below.
How to Roast Peppers in the Oven: love this easy method by Yummy Toddler Food. You can even roast and then freeze your peppers if you aren't going to use them right away.
Broccoli
Broccoli Cornbread Muffins: a savory muffin recipe I developed for Veggie Buds Club. It's great to serve along side soup or any you'd have a roll/bread with. These are so fun for kids to help make.
Broccoli Pizza Crusts: Another awesome recipe on the Veggie Buds blog. You may have seen cauliflower pizza crusts but you can make them out of broccoli too! We love making mini rounds then topping them with tomato sauce, cheese, and more.
Broccoli Nuggets: The full recipe for this kid-friendly, broccoli packed nugget is in my cookbook, Little Helpers. However, there is a similar recipe on my blog that you can use broccoli and any other veggies: Rice and Veggie Nuggets. 
Healthy Broccoli Cheddar Soup: I love this easy soup recipe by Yummy Toddler Food. It's also packed with protein from split green peas! Add a sprinkle of extra cheese on top and kids will gobble it up.
Teriyaki Broccoli Chickpea Stir-Fry: I love this vegetarian dinner idea from The Natural Nurturer. Such a flavorful and nutritious meal! Also her Broccoli Tots recipe looks incredible! They are mostly broccoli with eggs, cheese, almond/oat flour, and seasonings rolled into little dunkable tots…Yum!
Cabbage
Kid-Friendly Chopped Salad: My kids love this crunchy, sweet salad that's tossed with a tangy dressing. Apples and grated carrots make this veggie side dish super kid-friendly.
Rainbow Fried Rice (or Quinoa): there are tons of veggies packed into this easy fried rice recipe but some finely chopped red cabbage is definitely the star! Add egg, chicken, shrimp, or whatever protein you'd like to make this a perfect one-pan meal.
Egg Roll Meatballs: cabbage slaw mix is chopped and added to this yummy meatball recipe. If you have a meatball lover at home, this one is a must-try!
Asian Slaw: this Weelicious recipe has red pepper, pickled onions, and cilantro to make this a super flavorful, yummy side-dish.
Carrots
Pretty much every recipe on my site has grated carrots in it. I just love them! Here is the search results for carrots, if you are looking to incorporate them into baked goods or savory meals.
Tropical Carrot Smoothie is one of our favorite smoothie recipes. It combines sweet fruit and creamy yogurt so you really can't tell there's carrots in there.
Easy Roast Carrot "Fries": a simple, super kid-friendly recipe from Yummy Toddler Food. My kids love eating carrots this way and it's a must-try for young toddlers that can't quite chew through raw carrots yet. There is also a recipe for Quick and Easy Sautéed Carrots on the site too.
Germ-Kicking Carrot Ginger Soup: what a cozy and healthy way to eat carrots! This soup recipe by The Natural Nurturer looks great if you have a lot of carrots to use up and you can always add less ginger if you are concerned that your child won't like the flavor.
Roasted Carrot Hummus: I love making hummus with roasted carrots. It makes the dip so sweet and flavorful. I haven't posted my recipe on my blog yet so here is a similar one on Weelicious (although I would probably replace the peanut butter with tahini for my taste).
Cauliflower
Roasted Garlic and Cauliflower Mac and Cheese: if you only make one cauliflower recipe, I highly recommend trying this one! So creamy. comforting, and full of cauliflower. It's a dish my whole family loves.
Healthy Chocolate Milkshake (with Cauliflower!): chocolate milkshake with added veggies? Yes! Frozen cauliflower makes the shake super creamy and thick but you can't taste it at all. This super-powered smoothie is dairy-free and full of protein too.
Healthy Cheese Dip: this recipe on my blog is basically all cauliflower with some carrot for color and some grated cheese for that yummy cheesy flavor. Dunk in more veggies, crackers, or chips!
Cheesy Cauliflower Nuggets: rice, cheese, and tons of cauliflower! This The Natural Nurturer recipe such a perfect, kid-friendly way to eat cauliflower.

Celery
There are tons of kid-friendly celery recipes on the Veggie Buds Club blog such as my Creamy Celery Soup, a Waldorf salad (apples are celery make an awesome combo), an "ants on a log" Smoothie, and more!
Easy Alphabet Soup: celery as well as a ton of other veggies are packed in this super kid-approved soup. There is a version on VBC blog and in my cookbook, Little Helpers.
Ants on a Log: this post by Healthy Little Foodies goes beyond the classic peanut butter and raisins. There are lots of ideas for fillings and toppings I've never thought of. One tip I have is to cut the "log" into little pieces or "stumps" so they are in one-bite and easier for kids to eat.
Corn
Corn "Wheels" 4 Ways: this is the best way to serve corn on the cob to kids! Cutting the corn into little rounds or "wheels" is simple but so fun. You can serve the corn seasoned with butter and salt or I have four different and yummy seasoning mixes in the recipe to try as well.
Sweet or Savory Corn Pancakes: I love that corn can easily be in sweet or savory recipes. I created this corn pancake recipe for Veggie Buds Club. It's super kid-friendly and perfect to customize with whatever you like. Add blueberries to the sweet version or fresh herb or other veggies to the savory cakes. They are so yummy whichever way you go.
Zucchini and Corn Fritters: savory little fritters packed with corn and zucchini by The Natural Nurturer. Of course, if you only have corn on hand, you can make the fritters without zucchini too.
15-Minute Corn Confetti: doesn't 'confetti' sound so fun to eat? I love this each side dish recipe from My Diary of Us. Simply sauté fresh corn with peppers, scallions, and some other yummy seasonings…so perfect for summer!
Cucumber
Cucumber Melon Cooler: this is a sweet and refreshing drink recipe I developed for Veggie Buds Club. There are also some super cute Cucumber Butterflies (a snack made with cucumber, hummus, and pretzels) and lots of other fun cucumber recipes on the VBC blog.
Easy Refrigerator Pickles: my boys love pickles and they are so easy to make at home! This is a great simple recipe by My Diary of US.
Easy Cucumber Yogurt Sauce: if you have a dip lover in your life, this is a great simple recipe to make with cucumbers. Would be so good with chicken, or seafood, or any raw veggies. Recipe by Yummy Toddler Food.
Cucumber and Cream Cheese Sammies: As a kid, my mom always packed me cucumber sandwiches for lunch. I love this simple and kid-friendly recipe on Weelicious.
Cucumber Avocado Salsa: another simple and delicious Weelicious recipe. Would be so good with chips or on tacos, Yum!
Green Beans
Dilly Beans: perfect way to make green beans for any pickle lover. Just add green beans to a jar with vinegar and a few other ingredients, place them in the fridge for a few days, and then you have a yummy snack or side dish.
Sesame Green Beans: an easy and flavor packed green bean side dish by Yummy Toddler Food. I love the addition of garlic, ginger, and a little sweetness from maple syrup.
Chicken Piccata Stir-fry: this quick weeknight dinner is a mix of tender chicken, green beans, and lots of lemon flavor. Such  a yummy recipe from The Natural Nurturer.
Green Bean Fries: beans coated in a crispy topping then baked until tender and crunchy: pretty much the best way to eat green beans. My kids LOVE them dipped in ketchup. This recipe is in my cookbook, Little Helpers, and it's so fun to make with kids.
Green Bean Casserole: this homemade version of the classic Thanksgiving side dish looks so good!
Kale
Gluten-free Kale Crackers with Kale White Bean Dip: have you ever made crackers? It's easier than you think! But even if you don't make the crackers from scratch, try this green-packed dip and serve some store-bought crackers on the side. My recipe on the VBC blog.
Cheesy Kale Bites: are you seeing a theme, here? Cheese makes veggies super yummy and kid-friendly! This Yummy Toddler Food recipe calls for 2 bunches of kale!
Everything Kale Chips: kale chips are my kids favorite way to eat kale. If you haven't tried making them, you might be surprised how easy and delicious they are. Love this flavor spin by Weelicious.
Best Healthy Mini Meatballs (with kale): such a great way to get a little kale into your little one's dinner. Love this easy recipe by Yummy Toddler Food.
Kale Pesto: this sauce has kale, basil, and lots of nuts blended into a dairy-free but flavorful topping for pasta or anything you'd like. Recipe by Healthy Little Foodies.
Peas
Pea Falafel: chickpeas and green peas blended with a handful of ingredients to create little patties that are great as is, in a sandwich, or on a salad. My recipe on the Veggie Buds Club blog.
Quick Spinach Pesto with Pasta and Peas: love the combo of pasta and peas. This easy dinner recipe looks like one kids would really enjoy.
Pea Fritters: these savory pancakes are such an awesome way to get kiddos to enjoy peas. I love the kid-friendly recipes on Healthy Little Foodies.
Roasted Peas: another super kid-friendly recipe from Healthy Little Foodies. I've made these in my cooking classes many times. You toss peas with a little oil and salt then roast them until crunchy. They are so good and the prefect healthy snack.
Potatoes and Root Veggies
Root Veggie Latkes: this fritters can be made with potatoes and any root vegetable you have on hand (like rutabagas, parsnips, carrots…). They are so simple, yummy, and kid-friendly (basically pan-fried potatoes are always delicious). This is a recipe I developed for Veggie Buds Club.
Herby Oven Fries: these baked fries on VBC are so easy and yummy. Serve with ketchup or the fresh herb yogurt dip in the recipe.
Healthy Mashed Sweet Potato: this Yummy Toddler Food recipe is just two ingredients and is great for babies, toddlers, and older kids.
Healthy Sweet Potato Pancakes: these are my family's favorite pancakes. They don't taste "healthy" at all but they are packed with goodness from sweet potato and oats. My recipe on the Natural Nurturer blog.
Easy Homemade Potato Soup: this soup recipe on My Diary of Us looks so comforting and easy to make. I bet kids that enjoy soup would love this creamy potato version.
Instant Pot Mashed Potatoes and Cauliflower: this is an essential dinner recipe! So easy to do and perfect for any mashed potato lover to incorporate some cauliflower too.
The Best Root Vegetable Recipes for Kids: this post on Yummy Toddler Food is a great resource for roasting up or cooking any root veggie you have on hand.
Sweet Potato, Sausage, and Apple Skillet: another Natural Nurturer recipe that's great for an easy weeknight meal. The apple makes it sweet and super kid-friendly.
Pumpkin and Winter Squash
Butternut Squash Fries (sweet or savory): I love using my crinkle cutter to cut squash into fry-shapes. It's such a fun and yummy way to eat squash! You can spice up the fries any way you'd like and there's also an easy dip recipe on the post as well.
Autumn Harvest Soup: this recipe featuring squash and carrots is in my blog post on kid-friendly apple recipes because the savory soup has a little apple blended in to add some sweetness. I love this soup on a cool Fall day.
Easy Homemade Applesauce (with Veggies!): this is probably the Natural Nurturer recipe we make the most. My kids love this applesauce that has carrots and squash blended in.
Chicken Spaghetti Squash Bites: this is probably my favorite way I've ever eaten spaghetti squash. The cooked squash is mixed with ground chicken and some Asian-inspired flavors then formed into mini patties. Definitely highly recommend trying this recipe out!
Butternut Squash Oatmeal: this is a great breakfast recipe for babies and toddlers. Yummy Toddler Food has tons of squash recipes on her site, so search there for more.
Whole Wheat Pumpkin Waffles: doesn't this sound like the best Fall breakfast? Love this cozy, healthy recipe from My Diary of Us.
Pumpkin Pasta Sauce (quick and easy): have some canned pumpkin leftover from making muffins? Use it to make this creamy pasta sauce for dinner! Another great weeknight dinner idea from The Natural Nurturer.
Spinach
Spinach Pesto Pizza Toasts: this is a great recipe for kids to make from start to finish. Make the easy pesto or use a store-bought version then top the pizzas with more veggies to decorate. We love to cut the toasts into tree shapes during Christmas time but you can leave the toasts whole or cut them into any shape you like.
Banana Spinach Pancake Pizza (Paleo): my recipe on The Natural Nurturer blog is so fun to make with kids. You blend the batter then spread in a round pan and top with fruit. Cut in into wedges and you have a healthy breakfast kids will love.
Green French Toast Sticks: these baked French toast sticks are coated in a batter of spinach blended with eggs, cinnamon, and vanilla. The toast is bright green but tastes just like regular French toast. This is a great recipe for kids to make with you. My recipe on the VBC blog.
Spinach and Artichoke Grilled Cheese: use defrosted frozen spinach for this amazingly delicious looking sandwich on My Diary of Us. I am dreaming about making this for breakfast.
Mini Spinach and Cheese Pizza Rolls: we always put spinach in under the pizza sauce because you can't even tell it's there after you add the cheese. These pizza rolls on Yummy Toddler Food look like such a great meal idea for kids.
Healthy Ranch Spinach Turkey Meatballs: my guys love turkey meatballs and this is such a great flavor combo. Another great Natural Nurturer veggie-loaded recipe.
Tomatoes
Easy Fresh Tomato Salsa with Baked Chips: looking for a way to use up a lot of tomatoes? This homemade salsa is so easy to make. Kids can help throw the ingredients into a food processor and pulse to chop. Making baked tortilla chips is also a really fun cooking activity for kids.
Roasted Plum Tomatoes and Homemade Ketchup: have you ever made ketchup! It's pretty easy and so much better than store-bought. This VBC recipe uses roasted tomatoes so it has a ton of fresh tomato flavor.
Veggie-Loaded Instant Pot Tomato Soup: easy tomato soup with extra veggies that kids will love. Serve with a grilled cheese…Yum! This is a great Natural Nurturer recipe.
Caprese Quesadilla: tomato, melty mozzarella, and basil between two tortillas…such a great way to enjoy tomatoes. Love this Weelicious recipe.
Kid-Friendly Veggie Sauce: looking for a pasta sauce that's packed with veggies? This is the one you need! Recipe by The Natural Nurturer
Zucchini
"Pizza" Zucchini Fries: these sticks of zucchini are coated in a crunchy topping then baked until super crispy and delicious. My kids love them dipped in tomato sauce so they really taste like pizza.
Teriyaki Turkey and Veggie Meatballs: this recipe on my blog not only has grated zucchini in it but carrot and spinach too. This is one of my family's favorite meals!
Easy Baked Zucchini Fritters: savory zucchini pancakes without standing at the stove! This Yummy Toddler Food recipe is so awesome for kids. It's just tons of grated zucchini held together with some egg, cheese, and flour.
5-Minute Zucchini Avocado Dip: if you have a hummus lover at home, you have to try this veggie dip by The Natural Nurturer.
Chocolate Zucchini Oatmeal: chocolate AND veggies for breakfast! Maybe this sounds strange but this is another awesome Natural Nurturer recipe and you can't even tell zucchini is in the oatmeal.
Save to Pinterest!! So you can look up veggie recipes whenever you need them!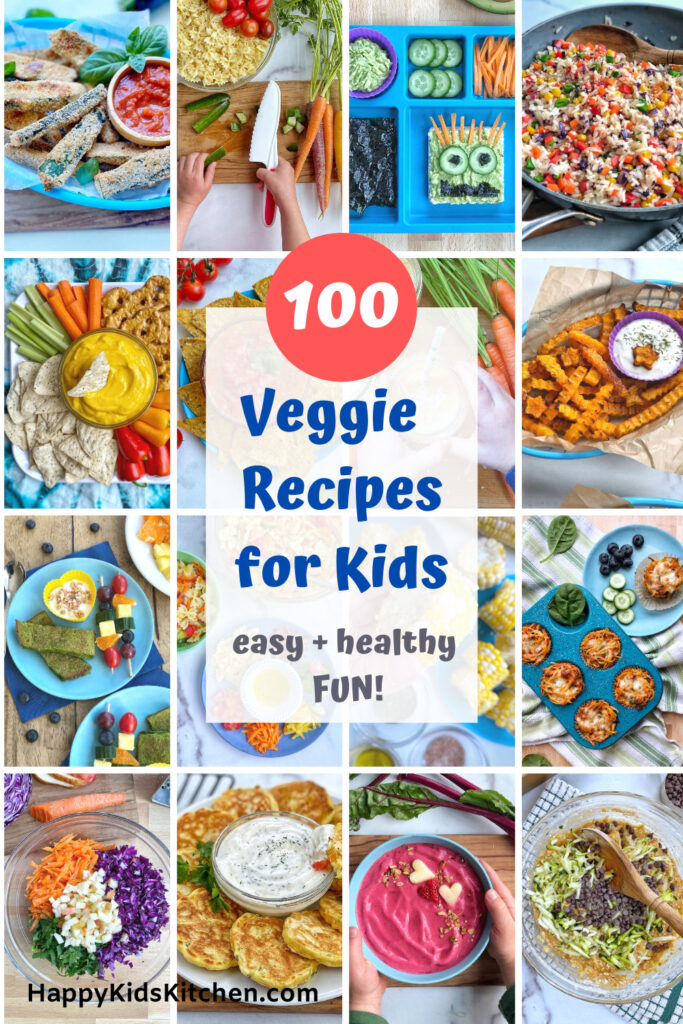 Thanks for stopping by! Follow me on Instagram where I share simple veggie recipes and ways we eat vegetables everyday in my stories and video posts. Would love to see you there! 🙂 Heather