Healthy Cheese Dip (Veggie Packed!)
A creamy delicious dip that's basically all veggies? Yes! This Healthy Cheese Dip is mostly cauliflower and carrots but you would never know it. Plus, there's still plenty of yummy cheese in there because you don't have to choose between cheesy goodness and veggies. You can have both! Make a platter of your favorite dippers and get into the kitchen with the kiddos to whip up this easy recipe together.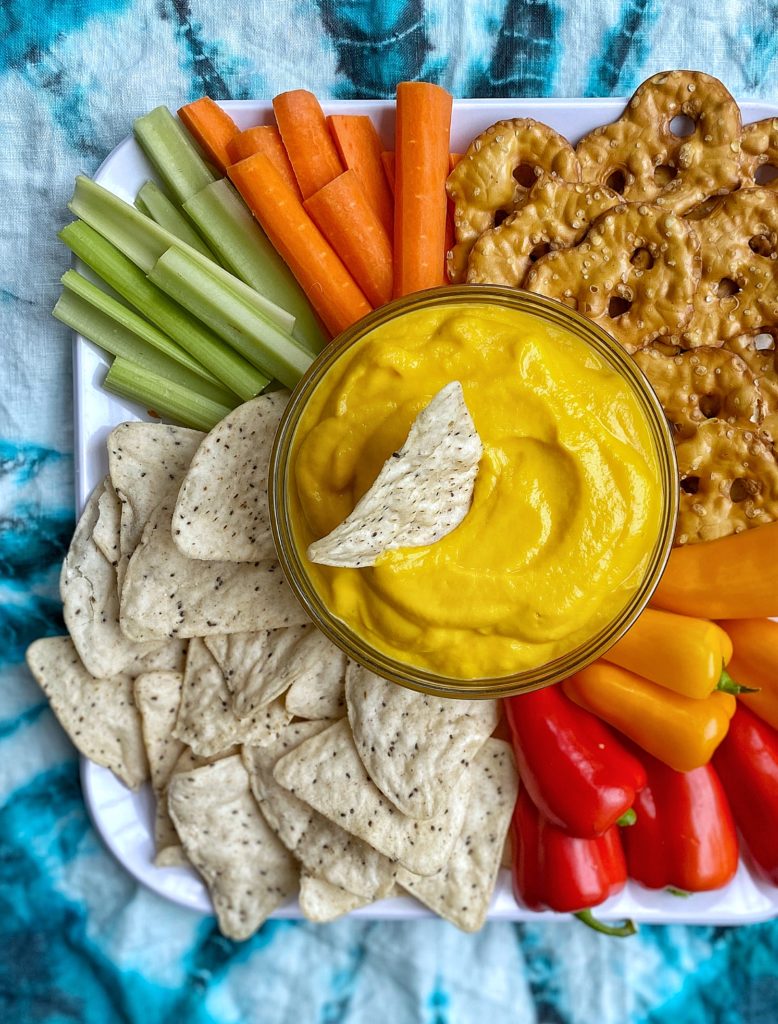 Kids in the Kitchen: Healthy Cheese Dip
Prep those veggies! Kids can break apart the pieces of cauliflower with their hands and add it to a pot. Peel and chop the carrots together. Making this easy veggie-centered recipe together is a great way to expose kids to new or non-preferred foods without any pressure to eat them.
Blender action. Kids can help add everything to the blender then help safely blend the cheese sauce together.
Make a pretty platter. Have kids help set up a dipping station by choosing which veggies and chips/crackers to pair with the dip.
Subs and Tips:
Cauliflower: I've only used fresh cauliflower for this recipe but I think frozen would work too. Just be sure to drain off any excess water before adding the cooked cauliflower to the blender.
Dairy-free?: I have not tried making this dip without cheese. However, you could easily use a unsweetened dairy-free milk. If you are looking for a healthy, vegan cheese sauce, I highly recommend by friend The Natural Nurturer's recipe (it has butternut squash in it too!): Vegan Cheese Sauce.
Extra Flavor? Stir in a few tablespoons of your favorite salsa to give the dip an extra punch of flavor and a Mexican "queso" twist. You could also play with the spices you add to the dip such as cumin or smoked paprika. Just be sure to add a little bit at a time and taste as you go.
Too thick or too thin? You can adjust the thickness of the dip by reducing the amount of liquid you add when blending the veggies. If you want really thick dip, make sure to drain your vegetables really well after cooking and even pat them dry with a towel/paper towel before blending.
Nachos! Thin the sauce out with a little extra milk, drizzle it over a tray of chips, sprinkle over some extra shredded cheese, and then bake for some awesome nachos. Yum!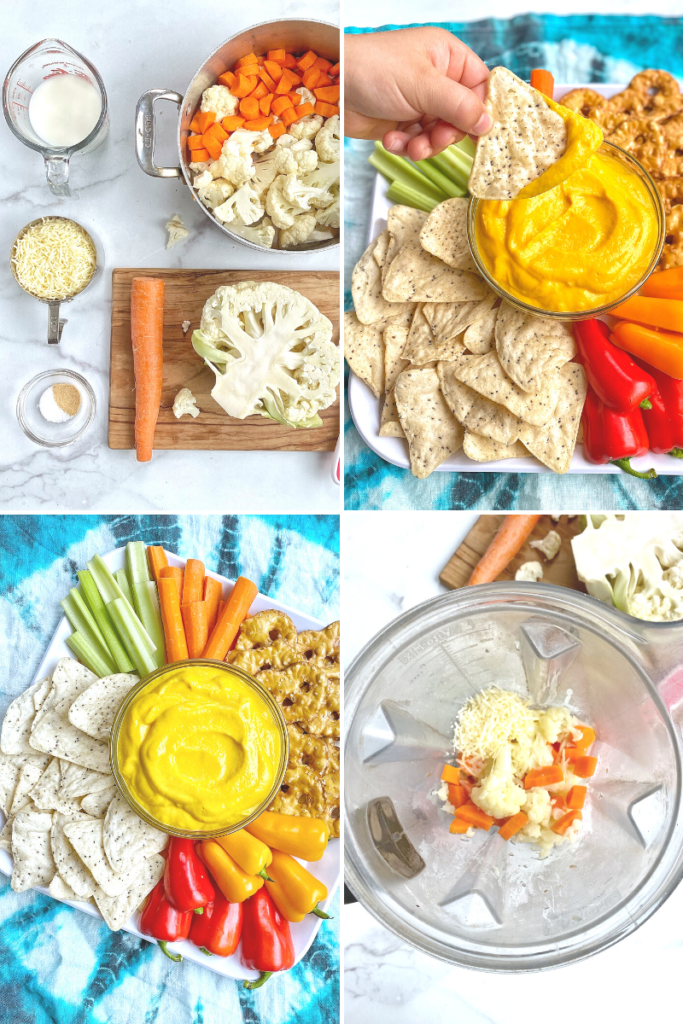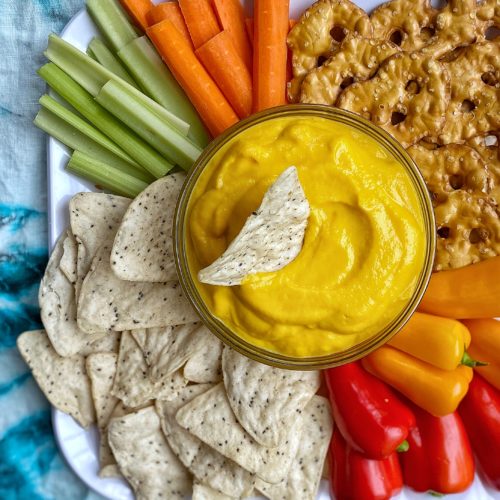 Healthy Cheese Dip (Veggie Packed!)
You would never know this easy cheesy dip is mostly cauliflower and carrots!
Ingredients
1/2

head cauliflower, cut into small florets

2

large carrots, peeled and diced

1/4

cup

milk

any kind

1 1/2

cups

shredded cheddar cheese

1/4

tsp

garlic powder

1/4

tsp

kosher salt

Chips, pretzels, and/or raw veggies for dipping
Instructions
Add cauliflower florets and diced carrot to a pot with about a cup of water. Place pot over medium high heat and bring up to a simmer. Cover and reduce heat to medium low. Cook until vegetables are very tender and are easily mashed with a fork.

Drain any remaining water then place cooked veggies into a blender. Add remaining ingredients and blend until smooth. If you want a thinner dip or to use as a sauce, add a little more milk and blend again. Taste and add more salt if needed. Serve warm.

Store dip in an airtight container in the fridge for up to 4 days. Rewarm in a small pot over low heat, stirring frequently, until warm. You can also reheat the dip in the microwave.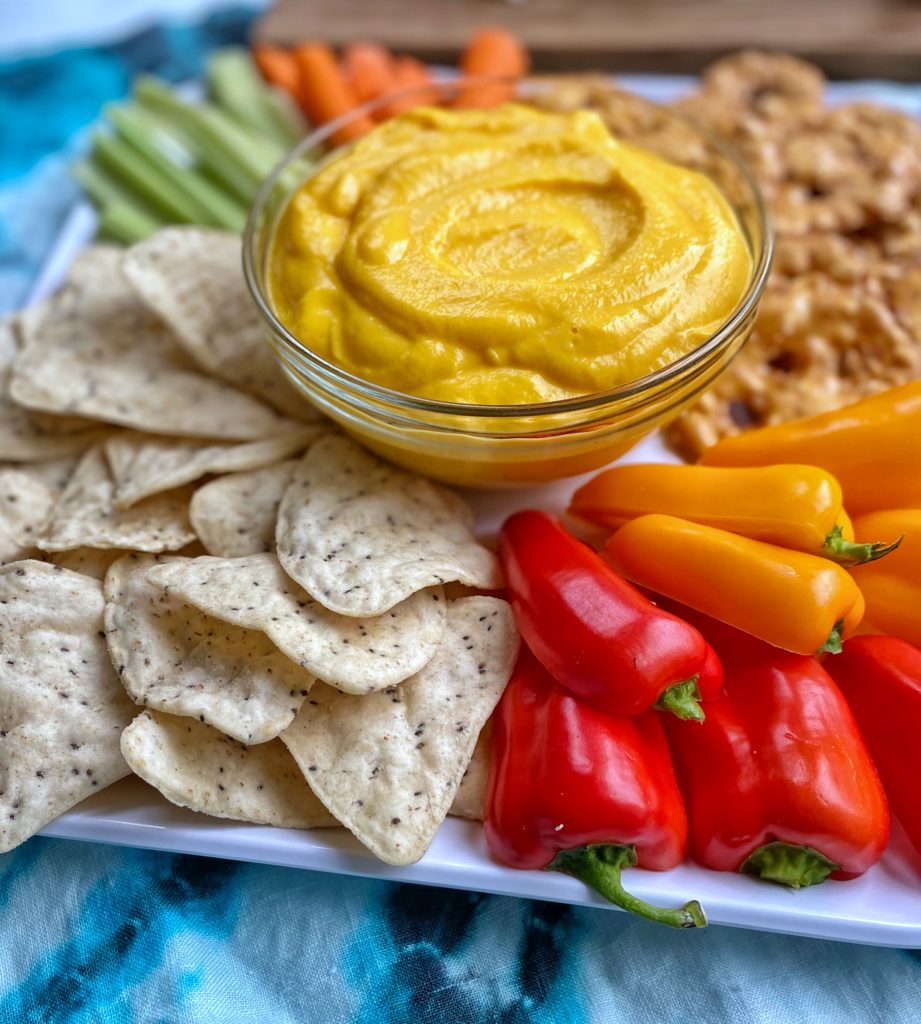 Save to Pinterest!!
Other veggie-packed veggies kids will love:
Easy Veggie and Bean Quesadillas