Heart Beet Smoothie Bowls
Whether for Valentine's Day or just any regular Wednesday, this fruit and veggie packed sweet smoothie is sure to be a hit with any kiddo. Heart Beet Smoothie Bowls are a gorgeous color pink thanks to lots of red fruit, vibrant beets, and some creamy yogurt. We love to enjoy this healthy snack "ice cream style" and eat it with a spoon, but you can just as easily add a little bit more liquid and drink it through a straw.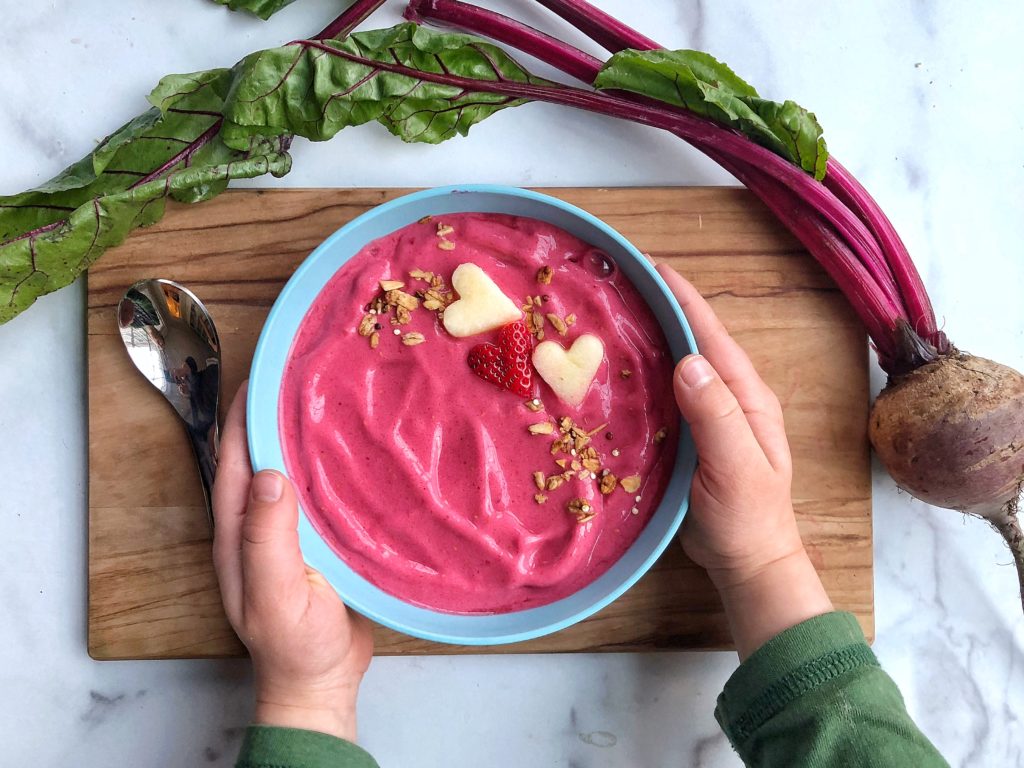 Kids can help make Heart Beet Smoothie Bowls!
Chop! I especially chose to add fresh apple and strawberries to this smoothie so that kids would have an opportunity to practice those knife skills. If you are looking for a kid-safe knife recommendation, check out my blog post Teaching Knife Skills to Toddlers and Kids (Safety and Basics) Cut apple off the core and into slices so kids will have an easier time chopping the apple into small pieces.
Add and measure ingredients. Even if kids don't help prep or chop the fruit, they will be excited to dump everything into the blender.
Don't forget the countdown! 5,4,3,2,1…flip the switch and cover your ears!
Customize and decorate! If eating this smoothie bowl-style, let kids choose toppings such as extra berries, chopped nuts, or granola to sprinkle on top. A couple mini chocolate chips is a super yummy treat too! My kids like to decorate the top of smoothie bowls sometime too and place fruit on top to look like a smiley face.
Subs and Suggestions for Heart Beet Smoothie Bowls:
Dairy-free? Feel free to use a dairy-free yogurt or even substitute a 1/4 cup of raw cashews for the yogurt.
Beets: You can cook beets at home either by roasting or steaming them until tender. However, I usually take the shortcut and buy pre-cooked beets from the store.
Freeze! Have extra smoothie leftover or want to have a cold treat on hand? This smoothie freezes really well in popsicle molds. My kids loved them!
Not smooth? A high-speed blender like a Vitamix really helps get smoothies super creamy and smooth without adding a lot of liquid. If you are having trouble blending the ingredients, that may be the reason. Try adding a little more liquid and blending again.
Add too much liquid by accident? That happens to me all the time! I add a handful of ice and blend it in to create thicker smoothie again.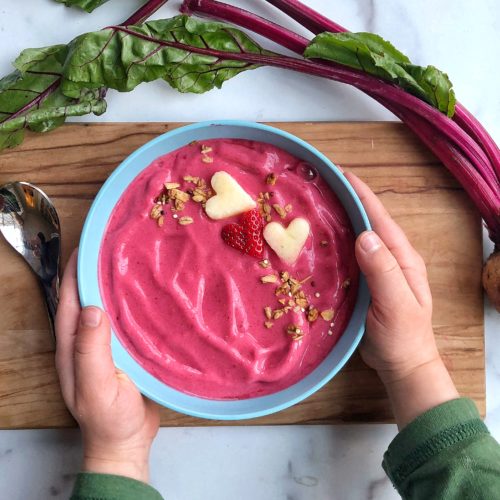 Heart BEET Smoothie Bowls
Ingredients
1/2

apple, cut into slices

6

fresh strawberries

1

small cooked and peeled beet

1

frozen banana

1

cup

frozen raspberries

1/2

cup

plain Greek-style yogurt

or any unflavored yogurt you like

1/4

cup

milk

any kind, dairy or non-dairy

1

tsp

honey

optional

Toppings such as additional fruit/berries, granola, chopped nuts...
Instructions
Have child help chop apple and remove stems from strawberries. Add to the blender.

Add remaining ingredients to the blender. Start with just a splash of milk at first. You want this smoothie to be thick so add a little more milk as needed to blend until smooth.

Taste and add more honey as desired. Spoon smoothie into bowls and add toppings if using. Enjoy!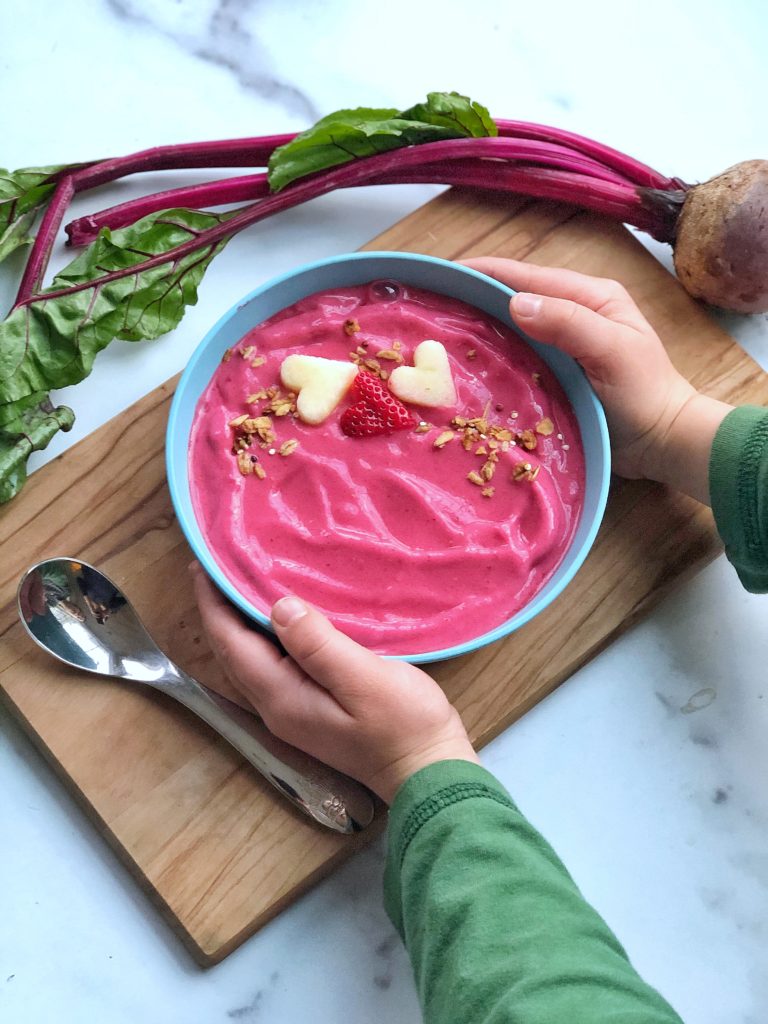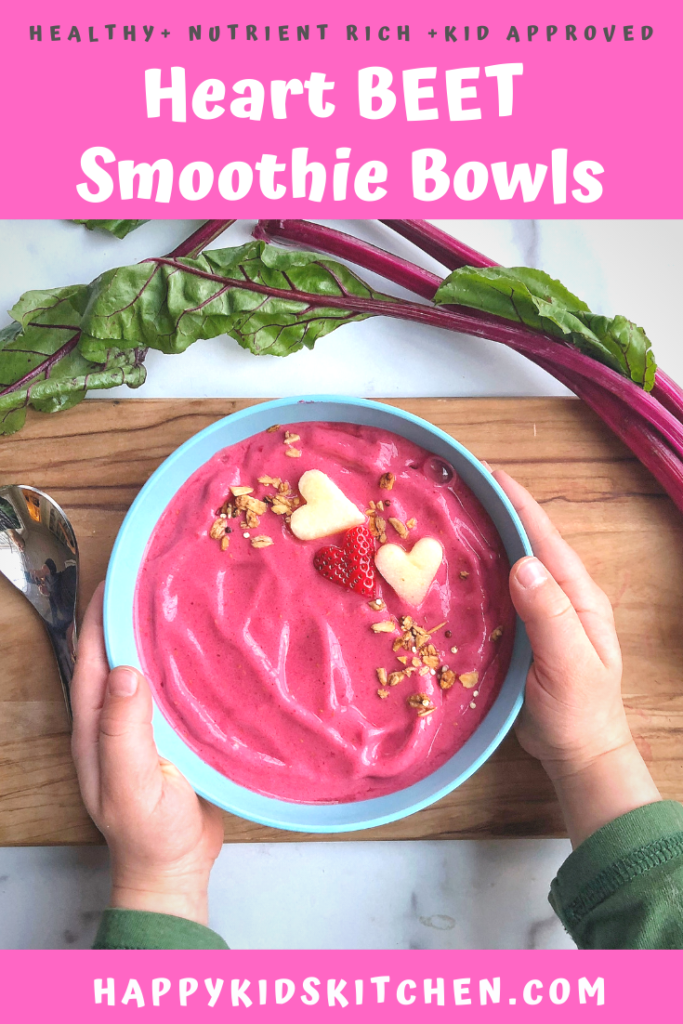 Need other fun and healthy snack ideas?
6 Apple Recipes to Cook with Kids
5 Kid-Approved and Veggie-Packed Smoothies