Almond Butter Chocolate Chip Cookies (Dairy and Gluten Free)
You can have warm, healthier cookies in less than 30 minutes! These Almond Butter Chocolate Chip Cookies are made from simple, pantry ingredients and everything gets stirred together in one bowl. You can make them with peanut butter instead, which is what my husband prefers. The cookies are lower in sugar, dairy-free, and gluten-free too.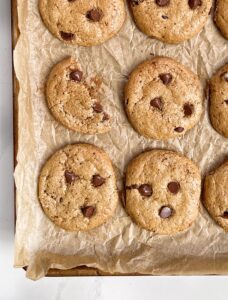 Kids in the Kitchen:
Measure: To make the baking process a little less stressful with young kids, measure some of the ingredients before you invite your little one over to help. Make sure to demonstrate how to make a measuring spoon "full and flat" by scraping the top with a straight finger so you don't get too much or too little of the ingredient.
Mix: This dough is pretty thick and sticky, so make sure to use a sturdy wooden spoon or rubber spatula. If kids are struggling to mix, just take turns and heave them hold the bowl for you while you stir.
Scoop: Using a cookie scoop (linked below) for the easiest way to make equal-sized cookies. However, using a spoon will work too to make mounds of dough on the baking sheet.
Top: Have your little chef press a few chocolate chips in the tops of the cookies before baking. (Any maybe have a few to taste test!)
Subs and Tips for making Almond Butter Chocolate Chip Cookies:
Nut butter: My favorite almond butter to use for this recipe is the Trader Joe's Raw Creamy Almond Butter. However, any runny-style almond butter should work well. I've also made this recipe with a natural peanut butter and it works great. I have not tried any seed butters or other nut-free alternatives, so I'm not sure how those would do. But I do think tahini would be a good substitute to try.
Sugar: I have used coconut sugar and brown sugar to make these cookies and they both work well.
Flour: I tested these with almond flour and all-purpose flour. If you use all-purpose flour, the cookies will not be gluten-free.
Egg-free?: I haven't tried making this recipe without eggs, so I don't have a suggested substitute. Let me know if you try one!
Helpful Equipment: Parchment Paper Sheets: these precut, unbleached parchment paper sheets make clean-up a breeze and ensure your cookies never stick to the pan. Plus, cutting the right sized piece of parchment paper from the roll is such pain! That's why I can't live without these sheets that fit perfectly in a baking pan. Cookie Scoop: make your cookies look more uniform and professional by using a portion scoop to measure the dough. It makes scooping the cooking dough so much easier and kids love to help use these tools too! I really recommend investing in a high quality scoop because the less expensive ones tend to break really quickly. You can also buy a set of three scoops to use for all kinds of baking projects.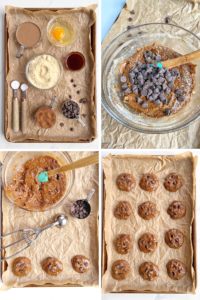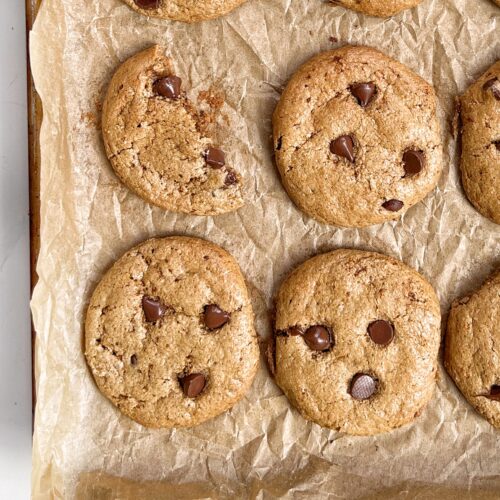 Almond Butter Chocolate Chip Cookies
One bowl, super easy, chewy, chocolate chip cookies that are also dairy and gluten free.
Ingredients
1/2

cup

natural, creamy almond butter (only almonds)

or natural peanut butter (only peanuts)

1

large egg

2

tbsp

maple syrup

1/3

cup

coconut sugar

or 1/4 cup brown sugar

2

tsp

vanilla extract

1/2

tsp

baking soda

1/4

tsp

fine salt

or a pinch if your nut butter is salted

2/3

cup

almond flour

or 1/4 cup all-purpose flour

1/3

cup

chocolate chips

I use semisweet
Instructions
Preheat the oven to 350 degrees. Line a sheet pan with parchment paper or use a silicone baking mat.

To a large bowl, add the almond butter, egg, maple syrup, sugar, and vanilla. Stir until all of the ingredients are well combined. (It's ok if the mixture starts to thicken.)

Stir in the baking soda and salt and then stir in the flour until just mixed in. Add most of chocolate chips, saving some to place in the top. The dough will be thick and maybe a little tricky to stir, but just use those muscles!

Scoop heaping tablespoons of the dough onto the prepared pan, dividing the dough equally into 12 cookies. Press 2 to 3 chocolate chips into the top of each cookie.

Bake until puffed and very lightly browned around the edges, about 12 minutes. Do not over bake or the cookies will be dry. (The cookies might still look at little undercooked in the center, but they will continue to cook while cooling on the pan.)

Allow the cookies to cool for 10 to 15 minutes (they may break if you try to take them off of the pan too soon) then use a spatula to transfer them to a cooling rack or plate (or you can just let them cool fully on the parchment paper).

Store cookies in a container with parchment or wax paper separating the layers (the cookies have a tendency to stick together) at room temp for up to 4 days.
Save to Pinterest!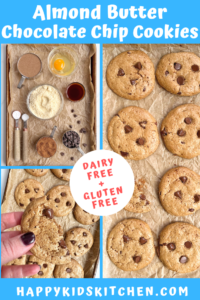 Other recipes to try:
Healthier Pumpkin Chocolate Chip Cookies
The Easiest Soft Sugar Cookies
Mini Chocolate Chip Snack Cookies