Healthy and Easy Peach Cobbler (gluten-free and vegan options)
A lightened-up version of the classic summer dessert! This Healthy and Easy Peach Cobbler is a treat you won't regret making. With whole grains and minimal added sugar, this is a fruit-focused dessert that won't leave you feeling like you need a nap after enjoying a bowl full. Plus, there are easy adaptations in the recipe for those that want gluten-free and/or vegan options. This Peach Cobbler is made from a handful of simple, real food ingredients and it's easy enough to make with toddlers and kids in the kitchen. Gild the lily with a scoop of vanilla ice cream or a dollop of Greek yogurt…so yummy!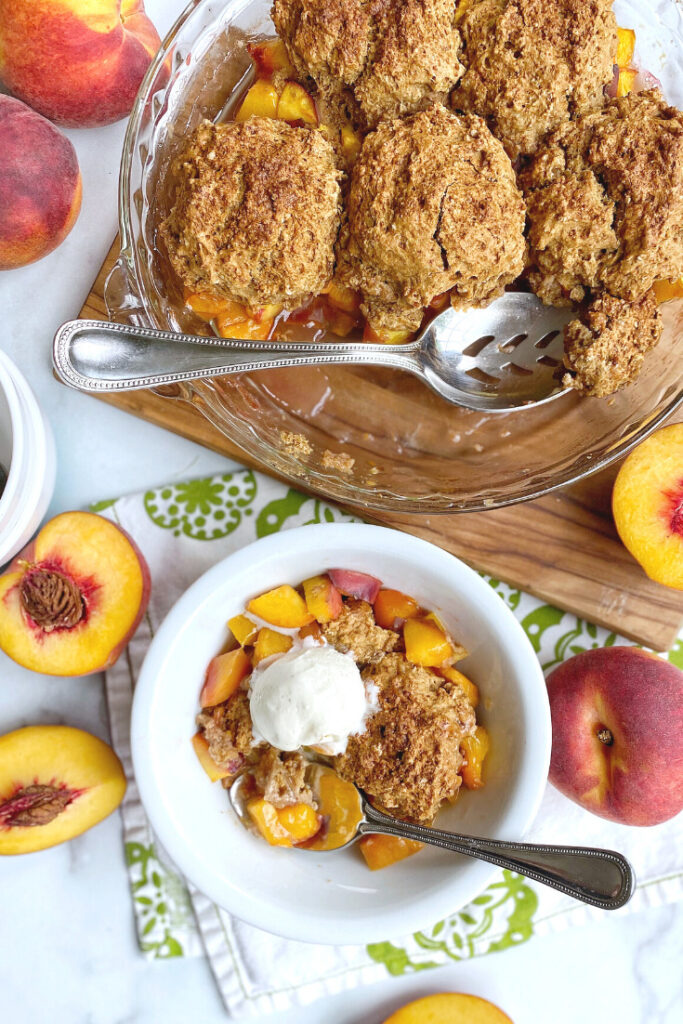 Kids in the Kitchen: Healthy and Easy Peach Cobbler
Chop the peaches: Cut the peaches into 8 to 10 slices then have your child use a child-safe knife to chop the slices into a dice. If you need more info on teaching kids knife skills check out my blog post: Teaching Knife Skills to Toddlers and Kids (Safety and Basics) . We also love these little dog knives for chopping (seen in the picture below).
Mix the topping: Have kids practice those scoop and leveling skills. Feel free to measure some of the ingredients ahead if baking with toddlers or you just want to keep things more simple and less messy.
Top and sprinkle: Let kids help scoop the dough on top of the peaches (it doesn't have to look perfect…its a "rustic" dessert). Then take a few pinches of sugar to sprinkle on top of each biscuit.
Subs and Tips:
Flour: I like using a combo of whole wheat flour and almond flour for this recipe because it give the biscuits a great texture and add extra fiber and nutrients to the dish. However, you can use any flour you have on hand. Use all-purpose flour if you want a more traditional tasting dessert or add in some oat flour if you want to avoid nuts.
Gluten-free?: Use a gluten-free flour blend that you like in place of the traditional wheat flour.
Dairy-free?: Use a plant-based milk such as unsweetened almond milk and use solid coconut oil (I prefer the refined kind so it doesn't add coconut flavor to the dish) instead of butter.
Sugar: I like to use coconut sugar in this recipe but you can use cane sugar or a granulated brown sugar instead. Coconut sugar is a little less sweet so you may also be able to reduce the amount of sugar to a 1/4 cup if using regular granulated sugar.
Pan size: Any 9 to 10-inch baking pan will work for this recipe. You could also try and make the dish in a cast iron pan for a more rustic look.
Peaches and other fruit: I have not tried using frozen peaches in this recipe, but I think it would work. Frozen fruit releases more liquid when baked, so if baking the fruit from frozen, I would add an additional tablespoon of cornstarch to the fruit mixture. Feel free to add any other fruit you like to this recipe. I bet a combo of peaches and berries such as strawberries or blueberries would be delicious.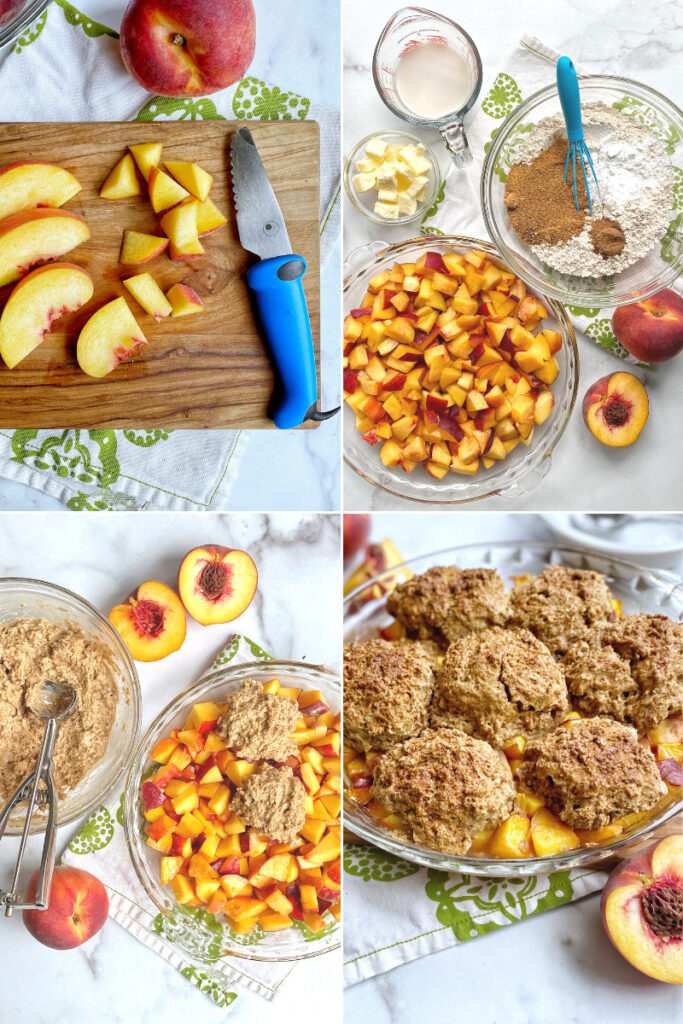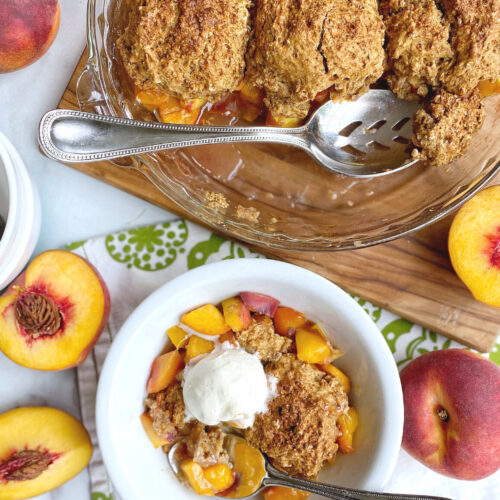 Healthy and Easy Peach Cobbler
A healthier summer dessert the whole family will love.
Ingredients
6

cups

diced ripe fresh peaches, about 6 to 7 medium peaches

3

Tbsp

maple syrup or honey

1

Tbsp

fresh lemon juice

1

Tbsp

cornstarch or tapioca starch

1/4

tsp

cinnamon

pinch of salt
Biscuit Topping
3/4

cup

milk (any kind)

1

tsp

apple cider vinegar or lemon juice

1

tsp

vanilla extract

6

Tbsp

butter or coconut oil

1

cup

whole wheat, all-purpose, or gluten-free flour

1 1/4

cups

almond flour or oat flour

or 1 cup regular flour from choice above

1/3

cup

coconut sugar or other granulated sugar, plus more for the top

1 1/2

tsp

baking powder

1/2

tsp

baking soda

1/2

tsp

fine salt

1/2

tsp

cinnamon
Instructions
Preheat oven to 350 degrees. I like making this cobbler in a deep-dish pie pan but you can use any 9 to 10-inch round or square baking dish you'd like. Grease your baking dish with a little butter or oil spray and set aside.

Add diced peaches, maple syrup, lemon juice, cornstarch, salt, and cinnamon to a large bowl and mix to combine. (You can also do this inside your baking dish but it might be a little more messy.) Pour peaches into the pan and spread into a even layer.

To make biscuit topping, measure milk in a 1 cup liquid measuring cup (or larger) then stir in vinegar and vanilla. Set aside.

Cut butter into small cubes or if using solid coconut oil, break it up into small pieces. If butter is still cold, let it come to room temperature or heat it in the microwave for 10 to 20 seconds to soften slighlty (it's ok if part of it melts a little bit).

In a large bowl, whisk together flours, sugar, baking powder, baking soda, salt, cinnamon. Add butter (or oil) and mix with a fork until a crumbly texture forms and the butter is distributed. Add milk mixture and stir until just combined and no dry flour remains. It's ok if the batter is lumpy.

Top peaches with the biscuit topping by scooping approximately 1/4-cup sized mounds of dough. You should get about 8 biscuits. Sprinkle a pinch of sugar on top of each biscuit.

Bake until the peaches are bubbling and biscuits and browned, about 35 to 40 minutes. Cool for 20 minutes then serve warm with ice cream or Greek yogurt, if desired.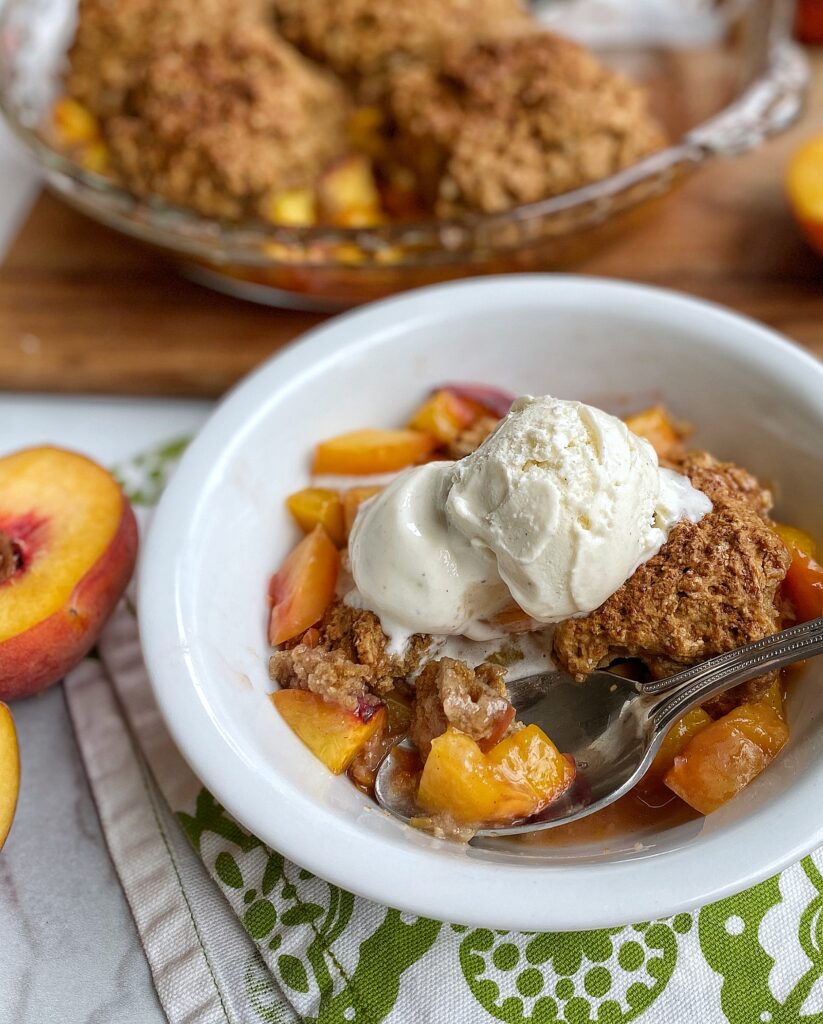 Save to Pinterest!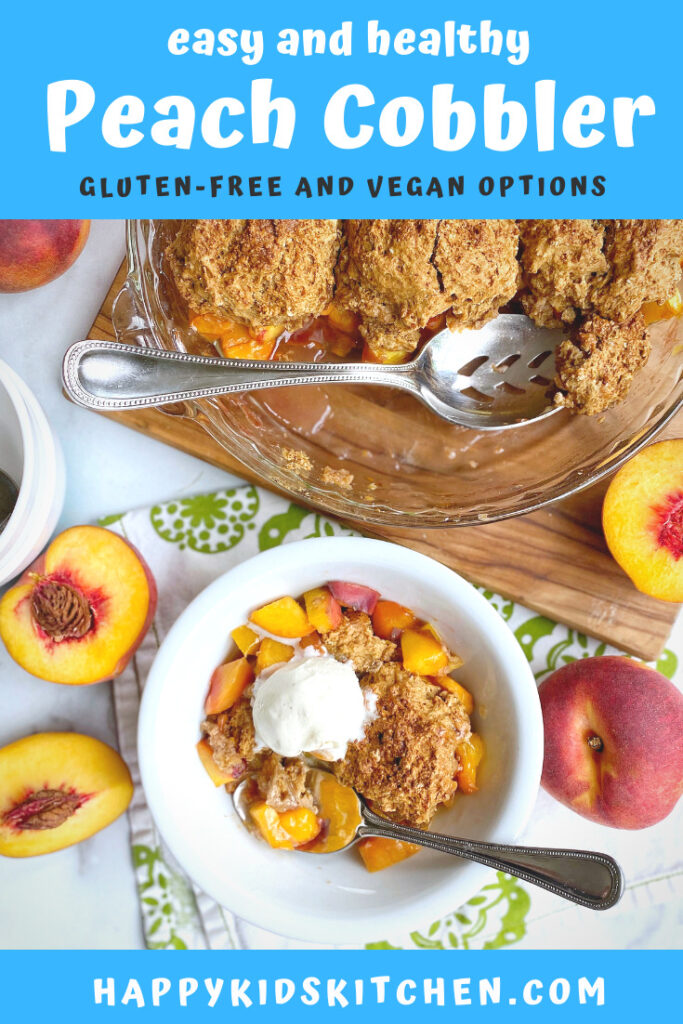 Other Healthier Desserts to Try:
Chocolate Chip Zucchini Bread Bars