Made from oats, nutritious seeds, and sweetened with a little maple syrup, this Nut-Free Granola Butter is a perfect peanut butter alternative. Use it to pack nut-free lunches for school or to try something new and delicious. Granola butter is great on toast, as a sandwich spread, or a dip for fruit. It's gluten free, vegan, naturally sweetened and packed with fiber and protein too!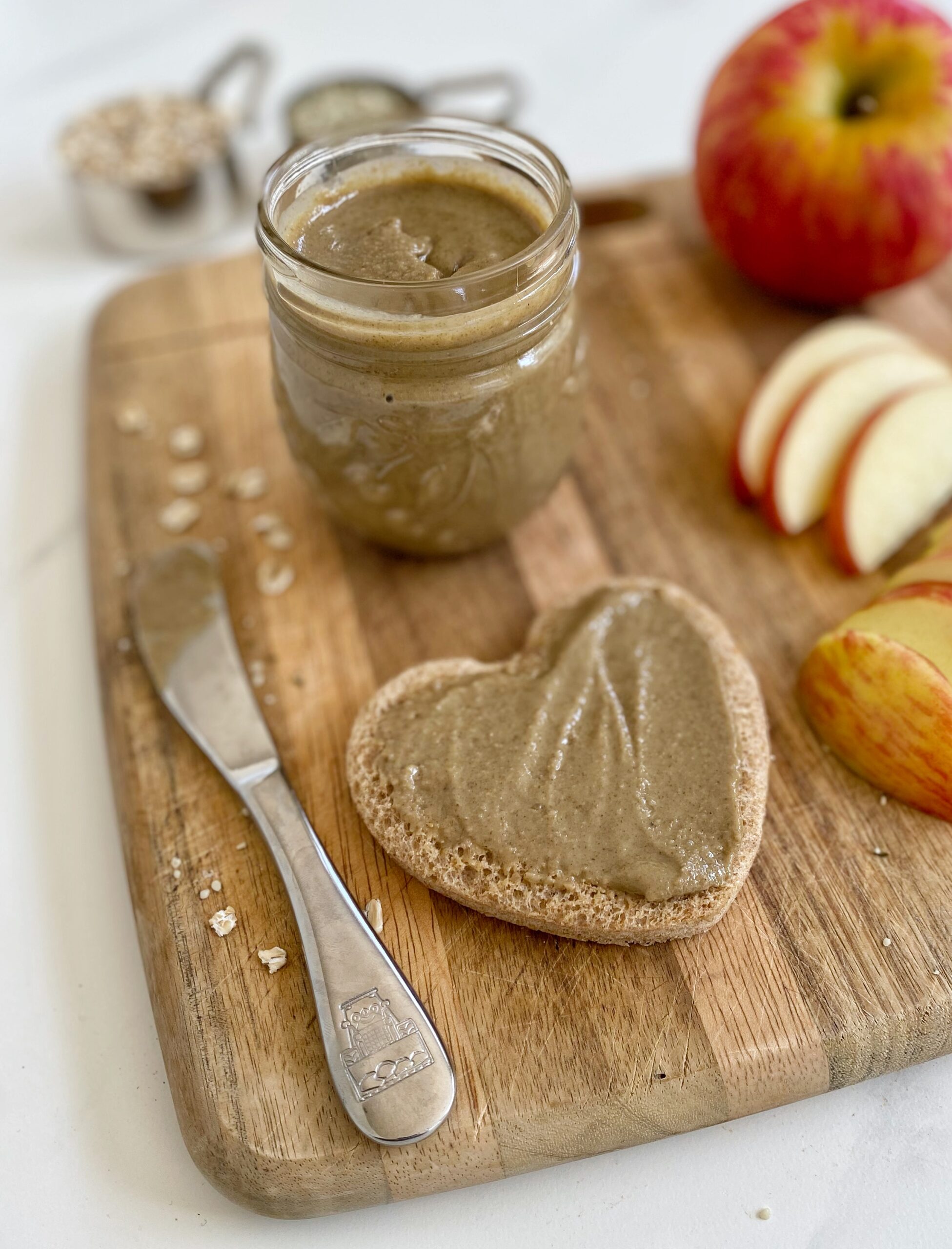 Kids in the Kitchen:
Kids can help measure and add ingredients to the food processor/blender.
The process of making this granola butter can be a little loud and long, so kids might want to go play or do something else while the blending is happening.
Once the granola butter is done. Have fun taste testing it in different ways. Try dipping your favorite fruit, spreading it on toast, or making a sandwich with it.
Subs and Tips for making Nut-Free Granola Butter:
Gluten free: Make sure to use certified gluten-free oats. I like the brand One Degree Organics and I buy large bags for a good price at Costco.
Hemp seeds (hemp hearts): What are they are where can you find them? Hemp seeds contain high levels of omega-3s and a healthful ratio of omega-3 to omega-6 fatty acids. The seeds also have a hight amount of protein per portion (3 Tbsps has 10 grams). You can find them in many grocery stores or healthy food stories these days. I also like to purchase them on Amazon HERE. The seeds have a slightly nutty taste.
Other seeds: If you don't have hemp seeds or don't wish to use them, you can use sunflower seeds or pumpkin seeds instead. Toasting seeds will add extra flavor.
Use tahini or sunflower seed butter: Like the taste of either of these seed butters? You can substitute half of the oil for the seed butters. This sub will also make the granola butter higher in protein.
Sweetness and added sugar: You can control the amount of added sugar you put into your granola butter. I use 3 to 4 tablespoons of maple syrup in mine, but you might like things a little more sweet or less. Add a little to start then taste and adjust as needed.
Storage: I store my granola butter in a small mason jar but any airtight container will work. Some oil might separate and come to the top as it sits. If this happens just use a spoon or butter knife to stir it up before using. The granola butter will keep well at room temperature for a week. Refrigerate granola butter for up to a month. The cold granola butter will be thick/solidified, so warm it gently in the microwave or let sit out at room temperature for a while before using.
Too thick?: Add more oil! The first time I made this I couldn't get the granola butter to be the consistency that I wanted. The solution was to add more oil. It seems like a lot, but think about how much natural oil nuts have versus oats. You need to add the oil in order for the oat mixture to be spreadable.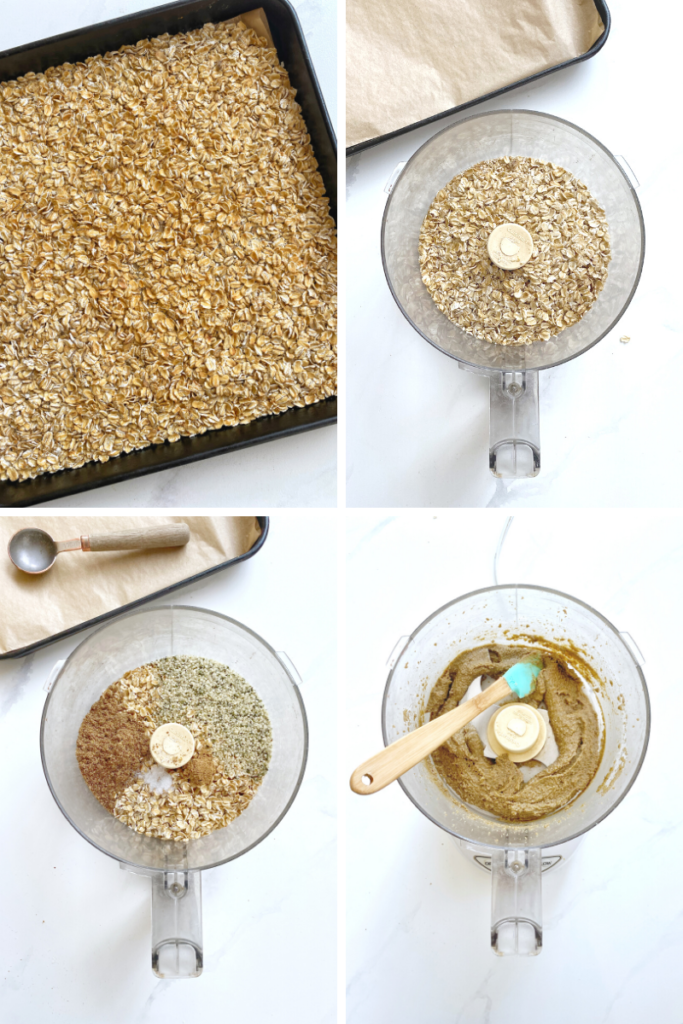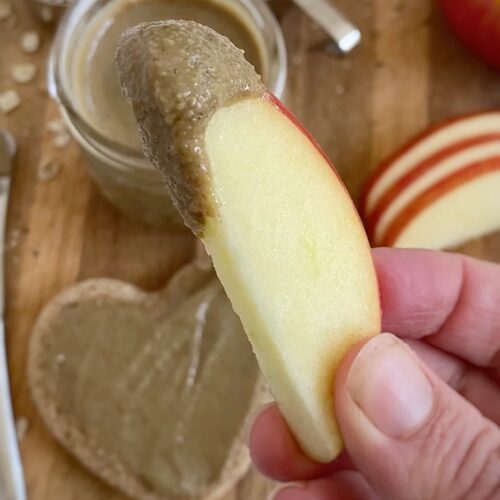 Nut-Free Granola Butter
A delcious peanut butter alternative. Lightly sweetened, protein-packed, and tastes like oatmeal cookies
Ingredients
2

cup

rolled oats, gluten free if desired

2

Tbsp

ground flax seed (flax meal)

optional

1/4

cup

hemp seeds or sunflower seeds

1/2

tsp

cinnamon

1/4 to 1/2

tsp

fine salt

1

tsp

vanilla extract

3 to 6

Tbsp

maple syrup or honey

1/3 to 1/2

cup

avocado oil or melted coconut oil (use refined for no coconut flavor)

Or replace half of the oil with sunflower seed butter for extra protein
Instructions
Preheat oven to 350 degrees. Place oats on a rimmed baking sheet and bake until oats are lightly toasted, about 15 minutes. Set aside to cool.

Add oats to a food processor or high-speed blender. Grind into a fine powder. Add flax, seeds, cinnamon, and 1/4 tsp of salt. Process for 2 to 3 minutes at a time, stopping to scrape down the sides. Clumps will start to form after 5 to 8 minutes. If your mixture still looks like sand, that ok, continue with the recipe. Adding oil will make it come together eventually.

Add vanilla and 3 tablespoons of maple syrup. Turn machine on then stream in 1/3 cup of oil. Stop and scrape down the sides and the bottom of the food proccessor and blend again.

If granola butter is too thick (not as spreadable as you'd like), blend in 2 more tablespoons of oil (or more as needed). Taste and add more salt or sweetener if you'd like. Scrape granola butter out into an airtight container or small mason jar. Store at room temperature for a week or in the fridge for a month.
Notes
Flavor additions: add 1/4 cup toasted coconut with oats to make a coconut flavored granola butter. Add 1 tablespoon of cocoa powder to make it chocolate.
Save to Pinterest!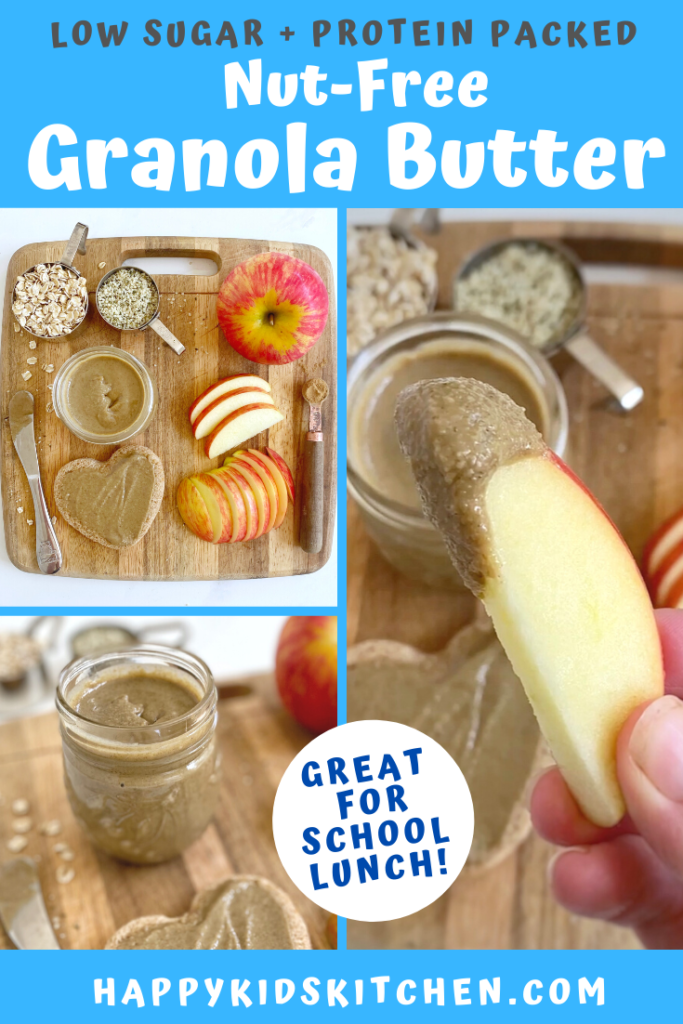 Master List of Healthy Lunch Box Ideas for Toddlers and Kids
Healthy Cookie Dough Bites (Nut free)
Healthy Strawberry Banana Muffins