Tortilla Egg Cups (High Protein + Veggies)
High in protein, portable, and great for meal prep, these Tortilla Egg Cups are a healthy breakfast both kids and adults will love. Customize each baked egg cup with whatever veggies, cheeses, or meats you'd like. Get kids involved and have them make their own flavor combos!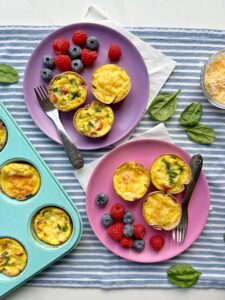 Kids in the Kitchen:
Cut the tortillas: Kids can help use a cookie cutter or biscuit cutter to cut the tortillas into circles. After cutting they can press the tortilla circles into the muffin tin.
Egg cracking: It can get messy, but egg cracking is such an important skill for kids to learn! Watch this video to get some tips on teaching kids to crack eggs. Make sure to use a large bowl to cut down on potential spills.
Prep ingredients: Depending on what veggies and/or meats you are using, kids can help rip up some baby spinach, use a kid-safe knife to cut some peppers/tomatoes, or dice up some ham.
Customize and fill: Let kids customize their own egg cups by filling them with the toppings of their choice. Or if your kids prefer them plain, just have them sprinkle a little cheese on top before baking.
Tips and Subs for Making Tortilla Egg Cups:
Cottage cheese: I like to use the Good Culture 2% in this recipe. However, any cottage cheese will work well. If you or members of your family are reluctant about the cottage cheese curds, use a "whipped" cottage cheese if you can find it. You could also blend you cottage cheese before using.
Flavor ideas: My favorite combo is chopped baby spinach, grape tomatoes, and either mozzarella cheese or crumbled feta…so good! My kids love crumbled bacon and cheese or ham and cheese. You can really customize these egg cups with whatever you typically like in your omelets or in quiche.
Helpful equipment: I've had a set of Circle Cutters like this one since culinary school (many many years ago!) and I still use them all the time. If you are looking for a muffin tin or other baking essentials, check out my AMAZON list (affiliate link).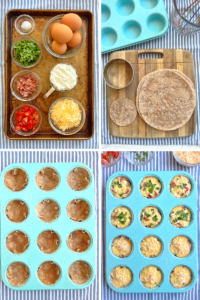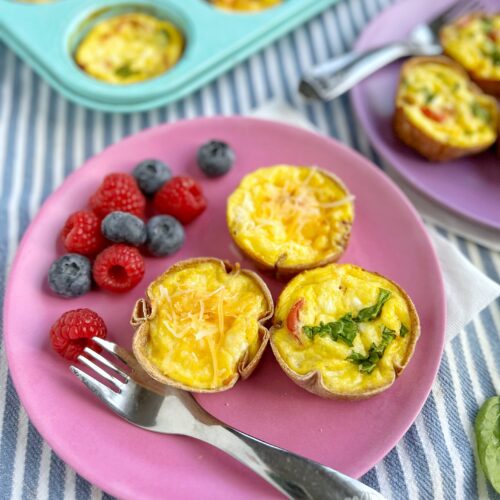 Tortilla Egg Cups
High protein, make-ahead, and easy to customize.
Ingredients
oil or oil spray, for greasing pan

5 to 6

large tortillas (whole wheat, white, or gluten-free)

4

large eggs

3/4

cup

cottage cheese

1/2

tsp

kosher salt

ground black pepper, to taste

optional fillings such as chopped spinach, diced pepper, chopped tomatoes, crumbled bacon, diced ham

1

cup

shredded cheddar cheese or cheese of your choice (optional)
Instructions
Heat the oven to 350 degrees. Grease the muffin tin with oil spray or use a pastry brush with oil.

Cut the tortillas into 12 4-inch circles (I use a circle cookie cutter, but you can use the rim of a glass or biscuit cutter.)

Push a circle of tortilla into each muffin hole. It's ok if it folds a little to fit.

In a bowl or large liquid measuring cup, whisk together the eggs, cottage cheese, salt, and pepper. Pour the egg mixture into each of the muffin cups, filling almost to the top.

Top each egg cup with the fillings of your choice. You can press the fillings into the egg mixture with a spoon to distribute them better. Sprinkle the cheese on top, if using.

Bake the egg cups until golden brown and no longer wet in the center, 20 to 25 minutes. (When you shake the pan the center of the egg cups should be firm and not giggle.)

Enjoy the egg cups warm or allow them to cool then store in an airtight container in the fridge for 4 days. To reheat, cook in an air fryer at 400 degrees for 5 to 6 minutes. You can also reheat them in the microwave, but the tortilla will be not be as crisp.
Save to Pinterest!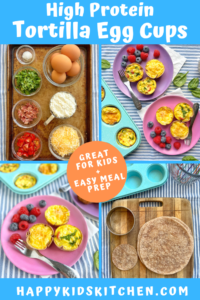 Looking for other breakfast ideas??
Kid Friendly Make-Ahead Breakfasts
Healthy Breakfast Sandwiches (Freezer Friendly)