Apple Cider Donuts (Baked and Vegan)
Does your family go apple picking in the Fall? If you do, you know the magic of Apple Cider Donuts. Warm, spiced cake usually rolled in cinnamon-sugar…they are the best treat ever! I created this homemade, baked version so we could enjoy apple cider donuts more often. They happen to be vegan, refined sugar free, and full of whole grain goodness too! If you don't have a donut pan, use a muffin tin or mini muffin to make donut muffins or donut holes.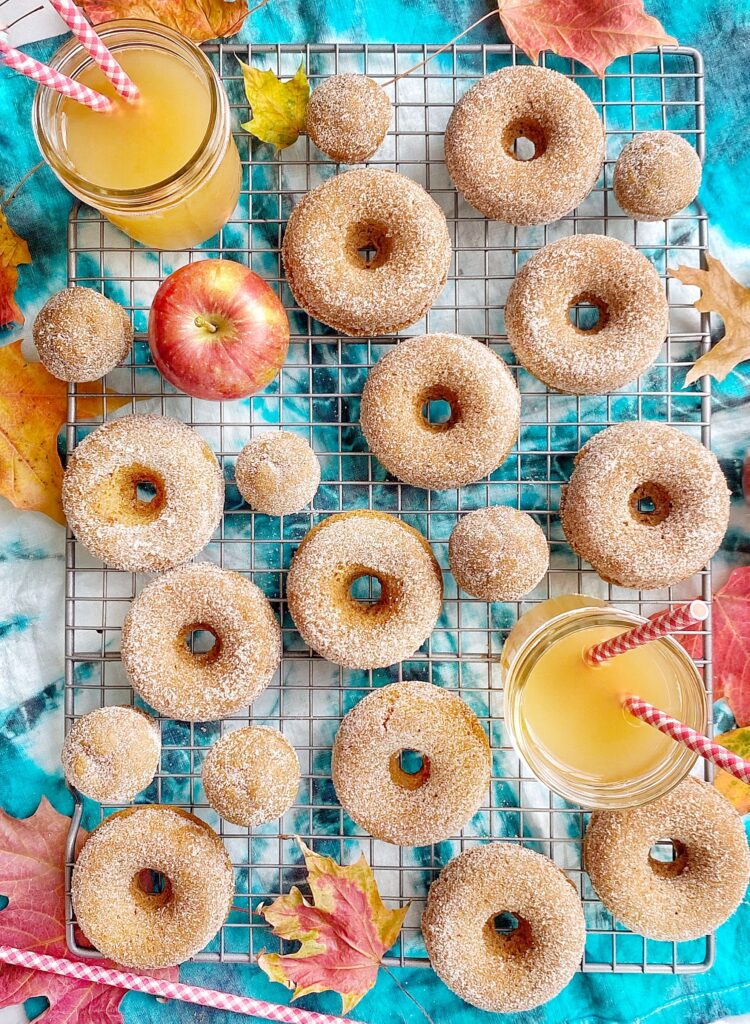 Kids in the Kitchen:
Grease pan: use oil or melted coconut oil and a pastry brush to let kids "paint" the inside of the donut pan. If using a spray oil, hold the pan over the sink and let kids help spray the pan.
Measure and/or mix dry ingredients: feel free to pre-measure some or all of the ingredients when baking with young kids. You can have everything in a bowl and let your little one gently mix everything together. Or if you want to teach your child to measure, make sure you show him how to spoon and level flour into the measuring cup so you don't get too much or too little.
Whisk and combine:
Help pipe: hold the bag together and fill the donut pan cavity. If the batter goes outside of the hole, that's ok. You can use your finger to push in back where it's supposed to go or use a paper towel to wipe up any spills.
Roll in the sugar: Let your child help mix the cinnamon and sugar together in a bowl then dunk the tops of the donuts inside. It's a yummy job!
Subs and Tips for Making Apple Cider Donuts:
Gluten-free?: Use your favorite cup-for-cup style gluten-free baking flour instead of the 2 cups of wheat flour and it should work out great. Let us know in the comments, if you give it a try!
Flour: I like to use half whole wheat and half regular white flour for this recipe because it adds a little more fiber while still making the donuts taste pretty authentic. However, you can use all white flour or all whole wheat if you'd prefer.
Spices: You can change up the "pie" spices to suit your own family's tastes or to use what you have on hand. Grating your own nutmeg is great because the flavor is so much more pure than pre-ground. You can use pumpkin pie spice too in here if you have that.
Coating or topping options: Have you ever seen maple sugar? It's so yummy! However, it can be pretty pricey. If you are interested in trying maple sugar, here is an option on amazon that I like. Otherwise, what ever kind of granulated sugar you have at home is great for making a sweet coating for the donuts. Alternately, you could dust the donuts with powdered sugar or even make a simple glaze by mixing powdered sugar with some apple cider.
Helpful tools:
Want to buy a donut pan? There are lots of options. I really like THIS one because it makes 12 smaller donuts and the size is great for kids. If you want large donuts or a silicone pan, there many different options if you search on Amazon or wherever you like to buy kitchen equipment.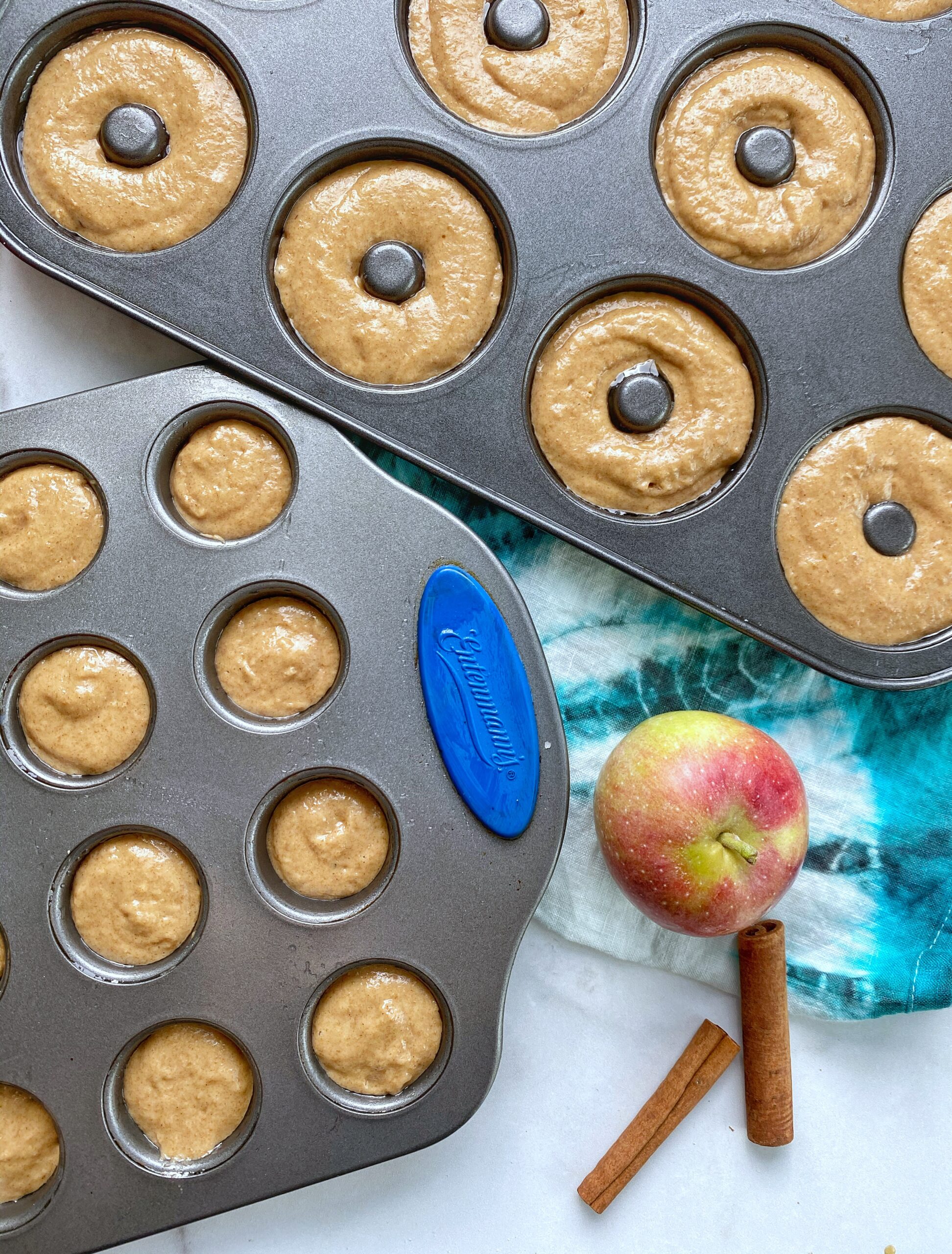 Do-Nut worry if you don't have a donut pan! You can use a mini muffin tin to make "donut holes" or even bake larger donut muffins and dunk the tops in the cinnamon sugar. Any way you bake it, this batter is delicious!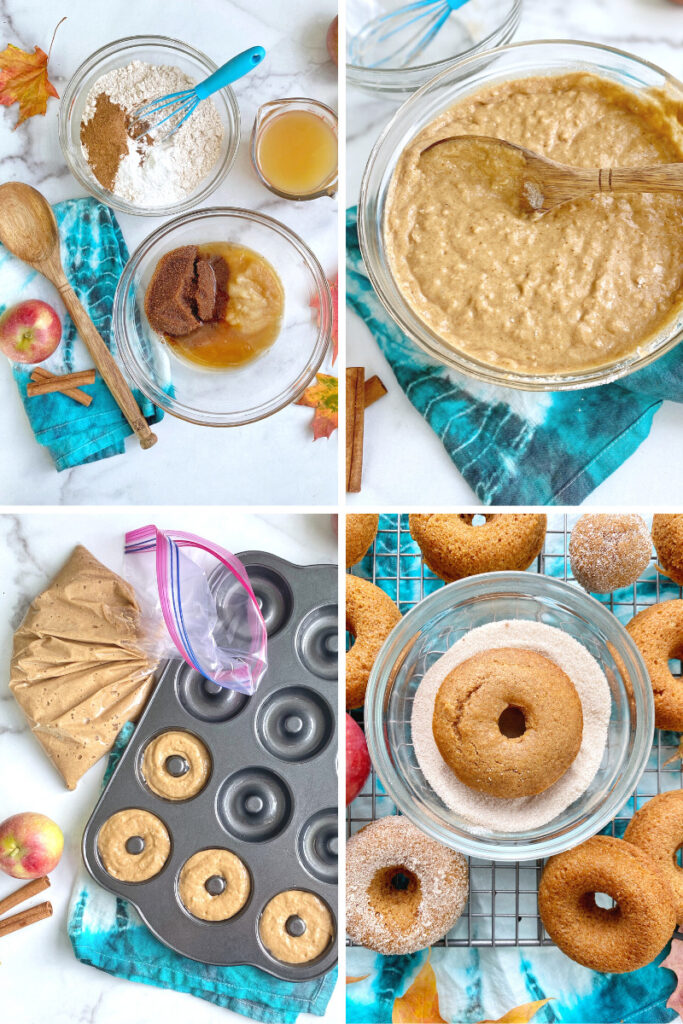 Apple Cider Donuts (Baked and Vegan)
Ingredients
1

cup

all-purpose flour or gluten-free flour

1

cup

whole wheat flour or gluten-free flour

see note for flour substitutions

2

tsp

baking powder

1

tsp

baking soda

1/4

tsp

fine salt

2

tsp

cinnamon

1/4

tsp

ground nutmeg

1/8

tsp

ground allspice

optional

1/3

cup

unsweetened applesauce

2

Tbsp

maple syrup or honey

1/2

cup

coconut sugar

or other granulated sugar

1/4

cup

avocado or vegetable oil

1

tsp

vanilla extract

1

cup

apple cider
Topping
1/4

cup

maple sugar, coconut sugar, or granulated sugar

1/4

tsp

ground cinnamon
Instructions
Preheat oven to 350 degrees. Grease a donut pan or mini muffin pan by brushing or spraying it liberally with oil. Set aside.

In a medium bowl. add flours, baking powder, baking soda, salt, and spices. Whisk to combine.

In a large bowl, whisk the remaining ingredients until well blended. Add dry ingredients and stir with a spatula or spoon until just combined and no dry flour remains.

To make filling the pan easier, add donut batter to a large resealable plastic bag or piping bag. Make sure to twist the top then carefully snip one corner of the bag. Fill each donut or muffin 3/4 of the way full and smooth the top, if necessary.

Bake until cooked through and dry to the touch, about 10 minutes for donuts and 8 minutes for mini muffins. Cool completely inside the pan.

Once cooled, remove donuts or mini muffins from pans. You may need to run a butter knife around the edges if the donuts are stuck.

Finish donuts when you are ready to serve and enjoy. Mix sugar and cinnamon together in a bowl. Dunk the tops of the donuts into the sugar mixture or roll the mini muffins in to coat. If the sugar isn't sticking to the donuts well enough, spray or brush them with a little oil before coating. Best eaten within 30 minutes of dipping in the sugar. Plain donuts can be stored covered at room temperature for 3 days.
Notes
Flour: You should use 2 cups total of whatever flour you choose. If using a gluten-free flour blend and your batter seems very runny, you may need to add a 1/4 to 1/2 cup more flour depending on the brand you are using. The batter shouldn't be thick like cookie dough but it should be more like pancake batter consistency.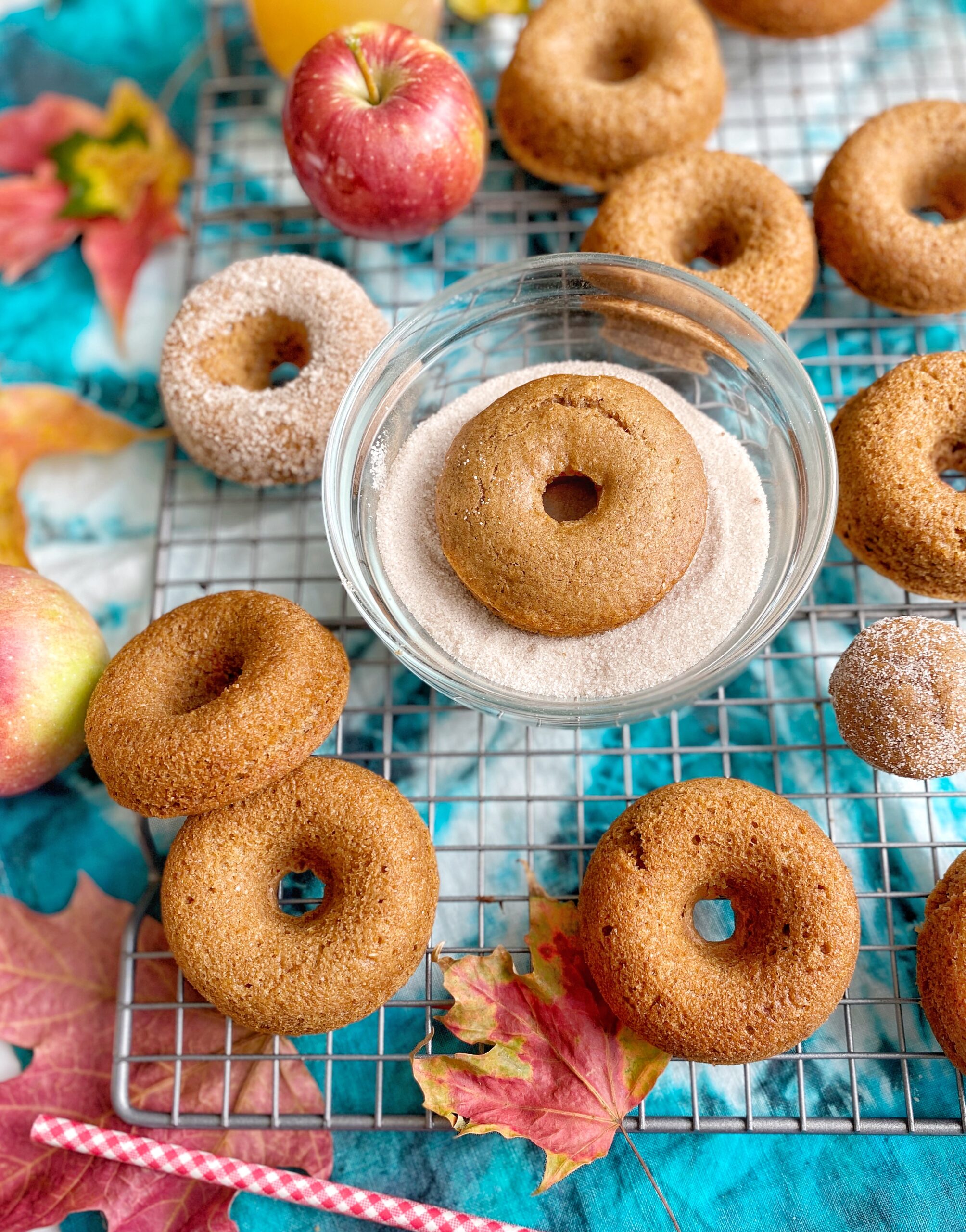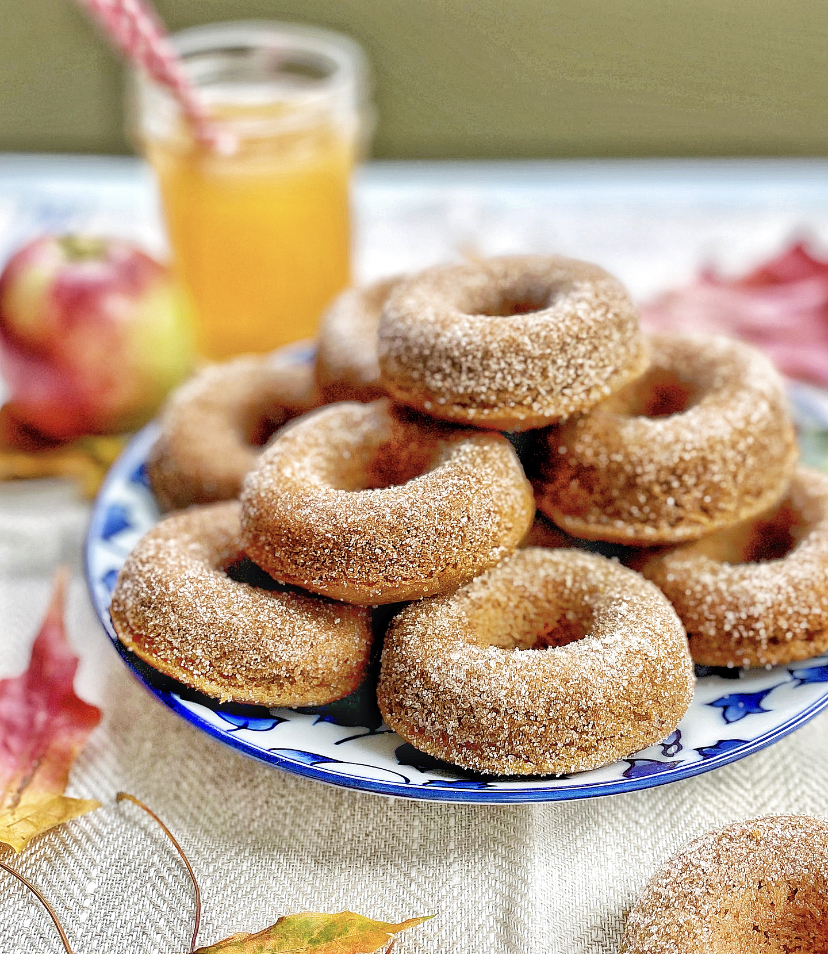 Save to Pinterest!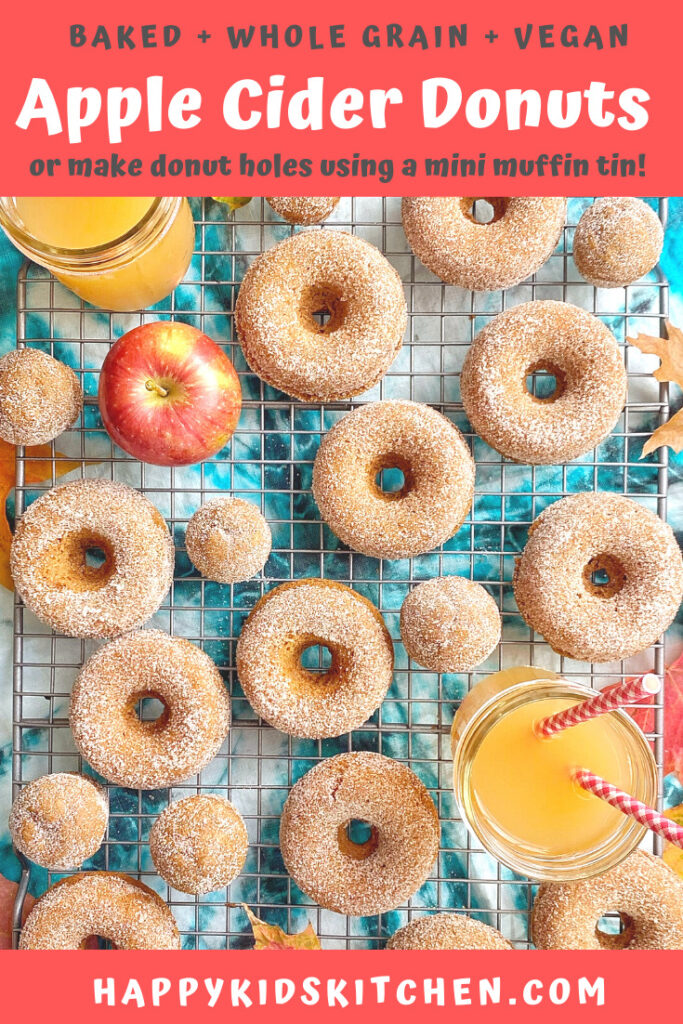 Other recipes you'll love:
Healthy Pumpkin Cookies with Maple Glaze
Healthy Apple Recipes to Cook with Kids