Grilled Chicken Cobb Salad with Strawberry Dressing
Salad night the whole family will enjoy? Yes! This Grilled Chicken Cobb Salad is an easy and healthy summer dinner that adults, kids, and toddlers can all eat together. The sweet and savory strawberry dressing is also a fantastic flavor addition. However, you can use any homemade or store bought salad dressing that you like. The salad toppings are very versatile too –use leftover cooked chicken (or any protein) and whatever cheeses and veggies you have on hand.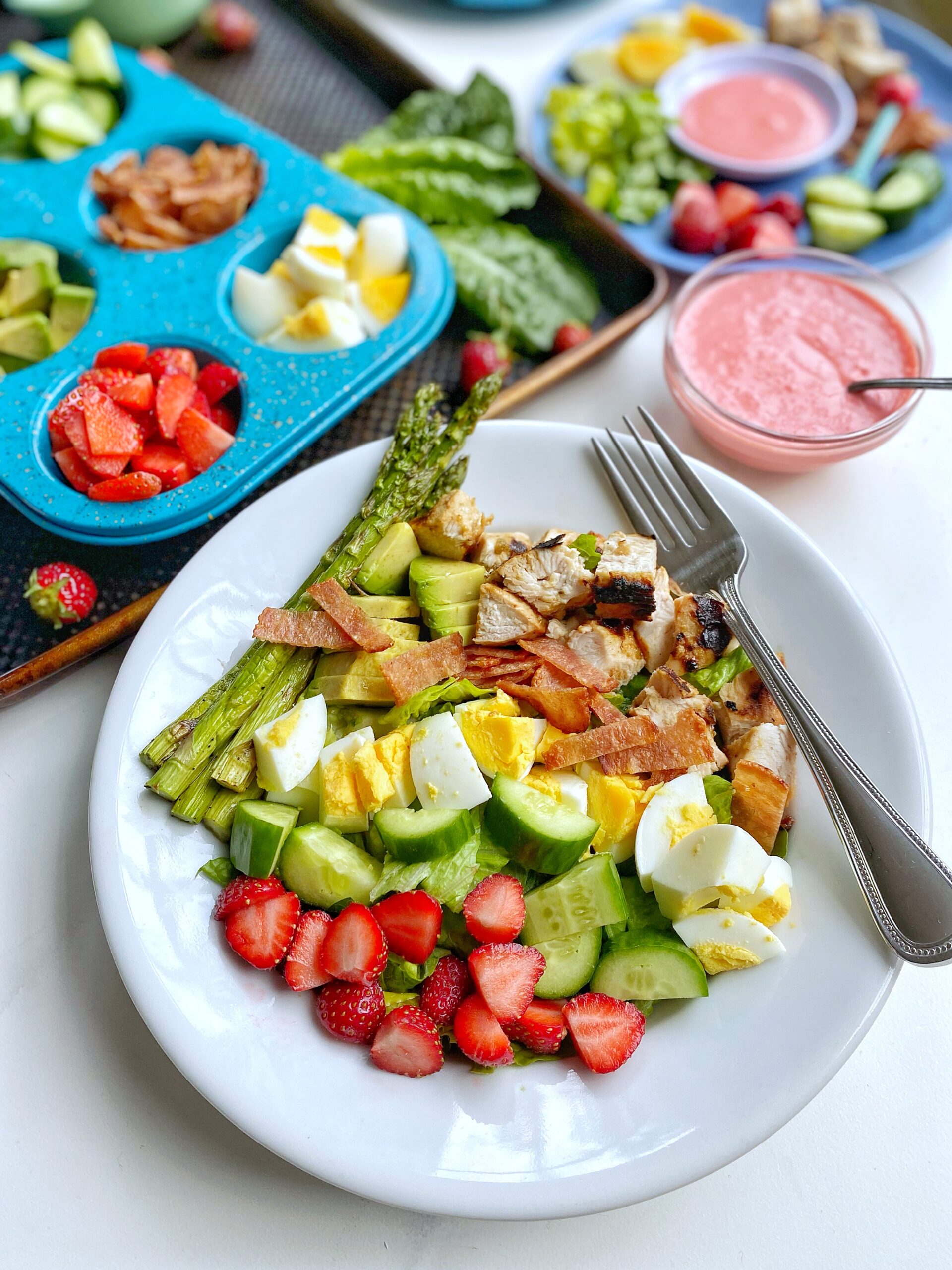 Kids in the Kitchen
Produce Prep: Get out those kid-safe knives! Kids can help chop the cucumber, avocado, strawberries, and/or any other fruits and veggies you are adding to the salad bar. OR kids can simply use their hands to help tear the lettuce into small pieces.
Egg peeling: Once the eggs are cool enough to handle, kids can help remove the shell. Get them started by removing a little shell first and have a bowl of water to rinse off the egg and help the shell come off. Be sure to give them a look over before chopping.
Snip bacon: Once bacon is cool, kids can help cut it by using clean scissors to snip it into bite-sized pieces.
Blend dressing: Kids can help remove the green tops from the strawberries then add all the dressing ingredients to a blender. Show your child how to make sure that the blender lid is safely in place then have your child turn the blender on.
Assemble Salad Bar: Kids will love gathering all the ingredients and either lining them up on a platter or placing them in the holes of a muffin tin.

Methods for Serving Salad to Toddlers and "Picky" Eaters:
Discover lettuce: Explore lettuce with your child and figure out what part he or she likes best. Do you like the leafy top or the crunchy bottom? Do you like to eat the leaves whole or chopped up really small? Do you like to dip the leaf in dressing or drizzle the dressing on top?
Deconstruct: Most kids have a hard time with lots of different foods mixed together and that's ok. Serve the salad components separately in a divided plate or on a large plate in individual piles. Add an element of interactive fun by placing a toothpick or food pick in one of the veggies and letting your child pick and choose what to eat on the plate. Make sure to include at least one or two foods that you know your child already enjoys.
Salad bar: The ultimate meal for kids that love independence. Allow you child to use small tongs or a spoon to add lettuce and toppings
On a stick! This is my 8 year old's favorite way to eat salad. You child can help make the skewers or you can make them on your own before dinner. Place salad components on a wooden skewer or lollipop stick. Serve the dressing on the side for dipping.
Tip and Subs for Grilled Chicken Cobb Salad
Vegetarian? You can definitely leave the chicken out of this recipe. Use some cooked shrimp or tofu instead or grill some vegetables such as asparagus, zucchini, corn, or eggplant to add to the salad.
No strawberries? Or don't like fruit in salad? Kids tend to like fruit so that's why I always add a sweet element like strawberries to my salads. You could use any berries, raspberries or blueberries would be great, or any kind of stone fruit, such as peaches or plums. Tomatoes would be a great substitute for the fruit.
Cheese options: My kids love fresh mozzarella balls, so that's what I used in this salad. However, any kind of cheese would be delicious, especially a crumbled feta or goat cheese.
Time shortcuts: Buy a rotisserie chicken at the store instead of grilling your own. I also usually buy precooked turkey bacon so I don't have to worry about cooking it before dinner.
Dressing: Use any homemade or store-bought dressing that your family enjoys. A simple balsamic vinaigrette would be great or even Ranch.
Helpful tools: the muffin tin in the picture below, small tongs, and more of my favorite kitchen gear can be found in my Amazon store HERE (affiliate links).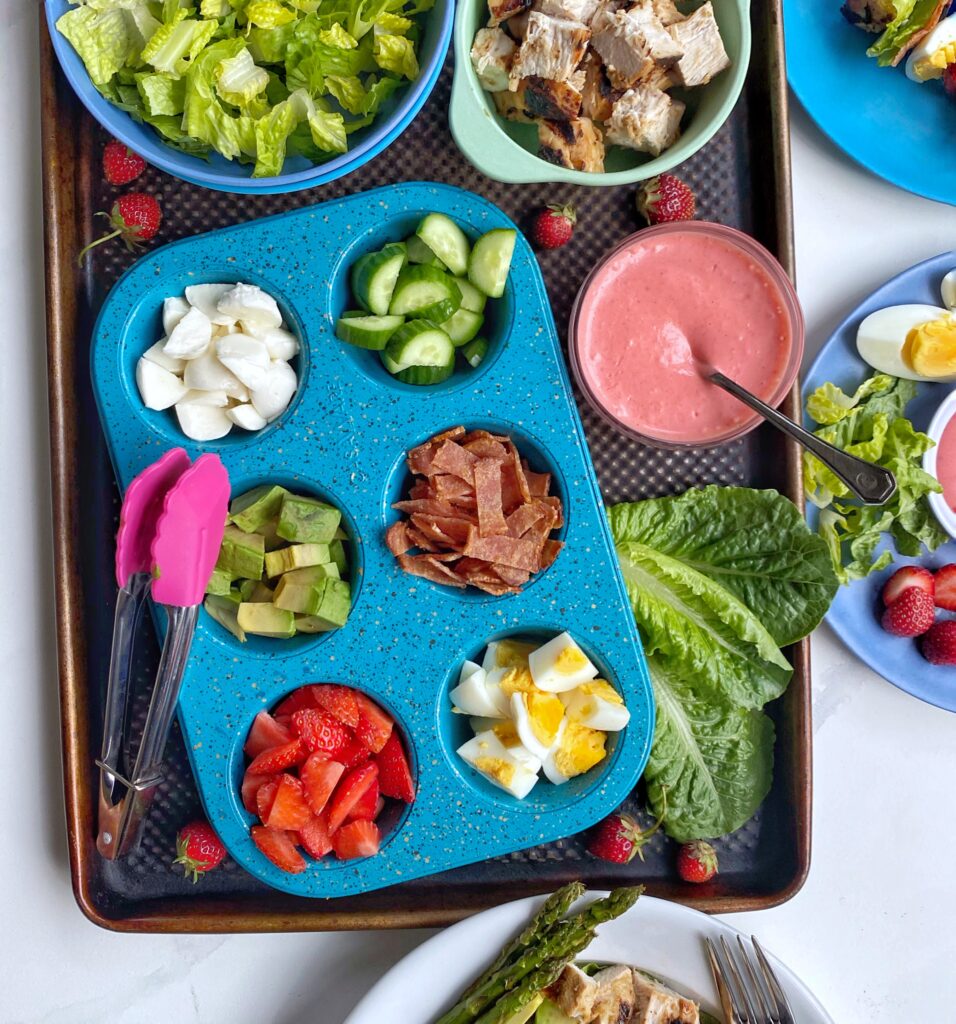 Grilled Chicken Cobb Salad with Strawberry Dressing
A fresh and favorful summer dinner. Ways for adults, kids, and toddlers to enjoy this easy meal.
Ingredients
Chicken Marinade
2 to 3

garlic cloves

1

Tbsp

Dijon mustard

2

Tbsp

balsamic vinegar

2

Tbsp

extra-virgin olive oil

2

tsp

honey or maple syrup

1/2

tsp

kosher salt

1/4

tsp

ground black pepper

1

tsp

dried Italian seasoning

1 1/2

pounds

boneless, skinless chicken breast
Strawberry Dressing
5 to 6

medium-sized strawberries, green tops removed

1

tsp

dijon mustard

1

tsp

Mayo or plain Greek yogurt

1

Tbsp

red wine vinegar

3

Tbsp

avocado or vegetable oil

1

tsp

honey or maple syrup

pinch of salt
Salad
2

romaine hearts, ends removed, chopped

or 4 cups of any lettuce

1/2

English cucumber, chopped

8

oz

fresh strawberries or grape tomatoes, halved or quartered

8

oz

small fresh mozzarella balls or crumbled feta/goat cheese

4

oz

cooked bacon or turkey bacon, chopped

optional

1

ripe avocado, diced

4

hard boiled eggs, peeled and chopped
Instructions
Marinate Chicken
Mix all ingredients in a large bowl or gallon-sized disposable zip-top bag. Add chicken and coat in the marinade. Set aside for at least 20 minutes or up to an hour. Or refrigerate for up to 2 hours.
Strawberry Dressing
Add all of the dressing ingredients to a blender. Blend until smooth. Taste and add a touch more honey if the dressing seems too tart (taste will vary depending on how sweet your strawberries are). Serve alongside salad. Remaining dressing can be stored in an airtight container in the fridge for a week.
Salad and toppings
To cook chicken, preheat your outdoor grill or a grill pan on the stove-top on medium heat. Cook for about 5 to 6 minutes per side. Chicken should no longer be pink in the center and a meat thermometer should read between 155 to 160 degrees. Remove chicken to a plate, cover with foil, and allow to rest for 10 to 15 minutes.

Dice cooked chicken into bize-sized pieces. Add chopped lettuce to a large bowl. Arrange salad components on a cutting board, platter, or I like to place them into a muffin tin for a fun, kid-friendly display.

Use tongs and/or spoons to make your own salads from the lettuce and toppings. Drizzle with strawberry dressing or another salad dressing of your choice. Enjoy! See pictures and examples in post above for ways to serve this salad to kids and/or "picky" eaters.
Save to Pinterest!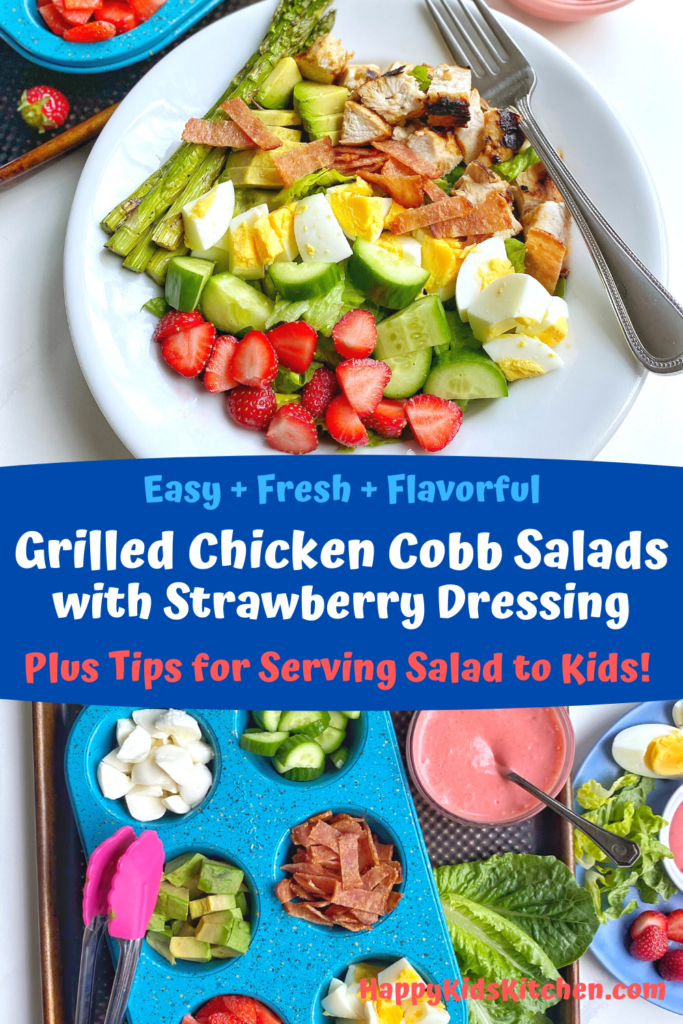 Other Easy Family Dinners:
No-Boil Pasta Bake (with Veggies!)
Sesame Noodle Salad (Nut-free and Gluten-free)
Easy Pesto Turkey Burgers (with Veggies)