Healthy Creamy Tomato Soup (with veggies and Greek yogurt)
This is one of my kids' favorite soups. They love it for lunches at home, packed up in a thermos for school, or for a cozy dinner any night of the week. Healthy Creamy Tomato Soup is packed with veggies, but you can hardly tell. The soup blended and creamy Greek yogurt adds an extra protein boost.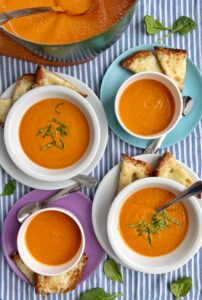 Kids in the Kitchen:
Veggie Prep: Kids can help wash and peel the carrots. Celery is also pretty easy for kids to saw across with the child-safe knife. See my blog post for more tips on using knives with kids, Teaching Knife Skills to Toddlers and Kids.
Dumping and stirring: Have kids help add ingredients to the pot with you then hold the top of a wooden spoon and stir. Older kids can pull a stool up to the stove and help stir on their own.
Blend!: My kids love helping with the immersion blender. It can cause some splattering, so be sure to hold the blending stick straight up and down and make sure the bottom part is fully submerged.
Garnish and serve: Kids can help make toast or grilled cheese to serve with the soup or simply sprinkle with soup with some cheese. Have kids pick out the bowls and set the table with spoons and napkins.
Subs and Tips for Healthy Creamy Tomato Soup:
Dairy free: You can simply leave out the yogurt for a dairy-free soup or use a dairy-free, unsweetened yogurt or sour cream alternative instead. Using coconut cream/milk will make the soup creamy but it will also add a strong coconut flavor.
Vegetarian: I like to use chicken broth/stock for this recipe because I like the flavor and added protein. However, veggie broth also adds great flavor and will easily make this soup vegetarian.
Fresh tomatoes? I have not tried making this soup with fresh tomatoes, but it would probably work if you had a lot of tomatoes to use up.
Immersion blender: This kitchen tool is essential if you are planning on making soups often (and especially for kids). I've had a Cuisinart one for many years (similar to this one HERE). However, there are many kinds at different price points, so do a search to find which one works best for you.
Thermos: This soup is great packed up for school lunch in a thermos. There are a few we love to use on my Amazon list HERE.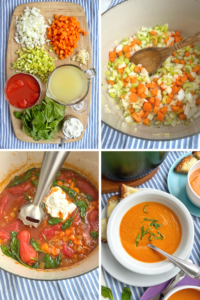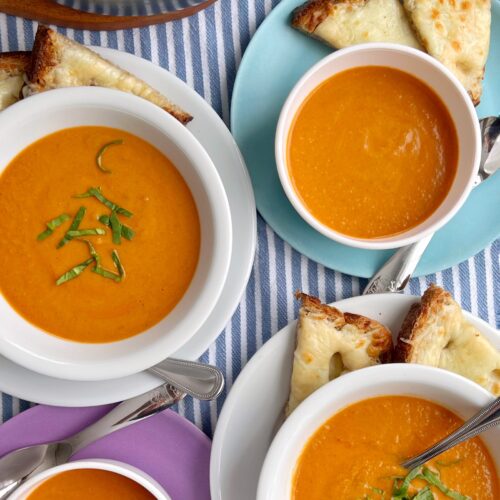 Healthy Creamy Tomato Soup
Packed with veggies and blended with Greek yogurt. A delicious soup kids and adults love.
Ingredients
2

tbsp

olive oil

1

large onion, chopped

2 to 3

large carrots, peeled and diced

4

stalks

celery, chopped

2 to 3

garlic cloves, minced

2

tbsp

tomato paste

28

oz

can whole peeled tomatoes

2

cups

chicken or vegetable broth

1

tsp

kosher salt

1/4

tsp

ground black pepper

3

cups

baby spinach

a few big handfuls

1/2

cup

plain Greek yogurt (full fat or 2%)

1

tbsp

brown sugar

optional
Instructions
Heat oil in a large soup pot or Dutch over over medium heat.

Add the onion, carrots, and celery. Cook, stirring occasionally, until the vegetables are softened and onions have lightly browned.

Stir in a the garlic and cook for an additional minute. Stir in the tomato paste and cook 20 to 30 seconds. Add the can of tomatoes, broth, salt, and pepper. Scrape up any brown bits stuck to the bottom of the pot.

Bring the pot up to a boil then cover and turn the heat down to simmer. Cook until the vegetables are very soft, 15 to 20 minutes.

Stir in the spinach and allow to wilt for a minute or two. Add the yogurt and brown sugar, if using.

Use an immersion blender in the pot to puree the soup until smooth. To use a regular blender, carefully transfer the soup and blend in batches then pour the soup back into the pot to reheat.

Taste the blended soup and stir in more salt and pepper as needed. Ladle soup into bowls then serve.
Notes
This soup is great served with the classic grilled cheese, any kind of bread, toast, or crackers. We like to make cheesy garlic bread with butter, garlic powder, and any kind of shredded cheese toasted on sliced bread.
You can garnish soup with grated parmesan, a sprinkle of shredded cheese, fresh basil, or sliced fresh spinach leaves.
Save to Pinterest!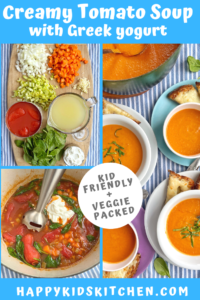 Other Soup Recipes to Try:
Autumn Squash Soup (Slow Cooker and Instant Pot)
Chicken Sausage, White Bean, and Kale Soup
Easy Dinner Ideas:
Slow Cooker Lemon Garlic Chicken
No-Boil Pasta Bake (with veggies!)