Slow Cooker Lemon Garlic Chicken
This Slow Cooker Lemon Garlic Chicken is the ultimate base for easy weeknight dinners. You can use the tender, flavorful shredded chicken in sandwiches, on top of salad, mixed into pasta sauce, and more! I even like to use the cooking juices and leftover chicken to make a delicious soup. There are so many ways to make this chicken into a healthy meal the whole family will enjoy.
Kids in the Kitchen:
Lemons! Kids can help zest the lemons with a microplane (holding it together) and then juicing them.
Carrots: Kids can help by washing the carrots and peeling them (holding the peeler together for younger kids).
Seasoning: Let kids help measure the seasonings into a small bowl, mix them together, then sprinkle them over the chicken in the slow cooker.
Shred: Put the cooked chicken into a large bowl (to prevent spillage) then have older kids help shred up the chicken with two forks. (It doesn't need to be prefect and you can always go back
Customize: Lay out all the toppings and let kids make their own pita sandwiches or deconstructed plates. I like to use this stainless steel tray or a muffin tin to easily serve everything.
Subs and Tips for making Slow Cooker Lemon Garlic Chicken:
Chicken: Chicken thighs cook up really well in a crockpot because they don't dry out as quickly as chicken breasts. I like to use half chicken thighs and half chicken breasts for this recipe because it's makes a nice mixture of juicy and tender meat. You can use all chicken thighs or all chicken breasts if you prefer.
Vegetables: I like to add onion and carrots for a veggie boost in the chicken. However, you can easily leave them out if you just want to make chicken without the veggies. For a shortcut, use pre-chopped onions and baby carrots that you can just cut in half.
Storage: I usually break this recipe up into 3 part: 1/3 of the shredded chicken that I use on the first night for sandwiches and salads (recipe below). Another 1/3 of the shredded chicken that I pack up and freeze, and then the last 1/3 which is the cooking juices and some of the chicken and veggies that are left in the liquid. I use the chicken and juices to make a soup or freeze to make a soup later. The frozen chicken is good in the freezer for 2 to 3 months.
Helpful kitchen equipment: The slow cooker I have as well as my other favorite kitchen equipment is in the Amazon list HERE.
Instant Pot: To make this chicken in the Instant pot (or other electric pressure cooker), follow the recipe below then set the cooker to Manual high pressure for 25 minutes. Do a quick release then continue with the recipe as written.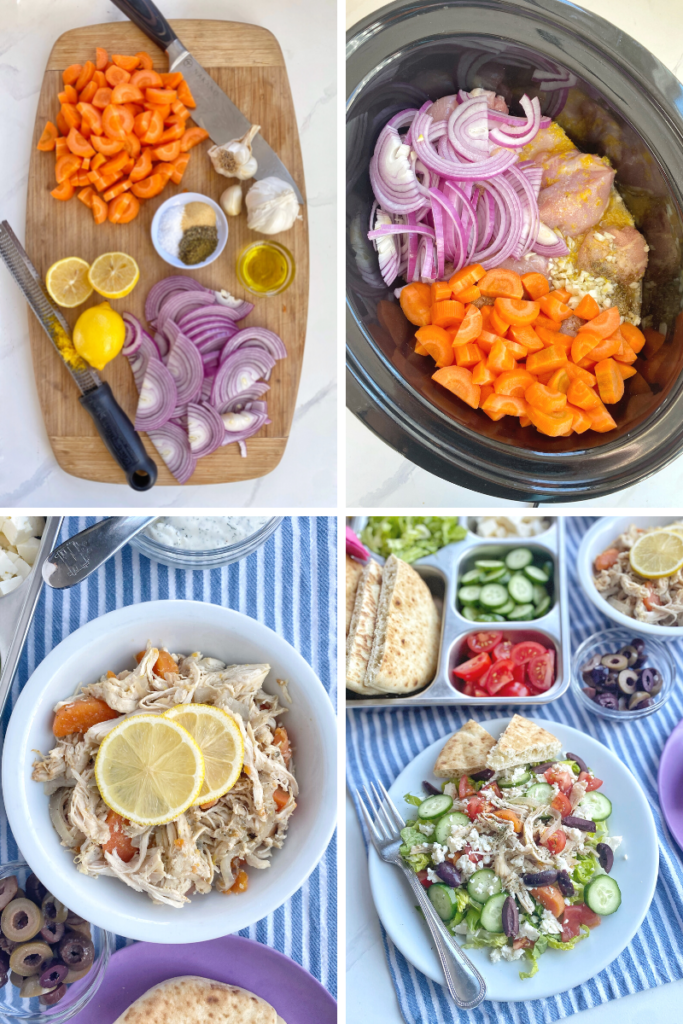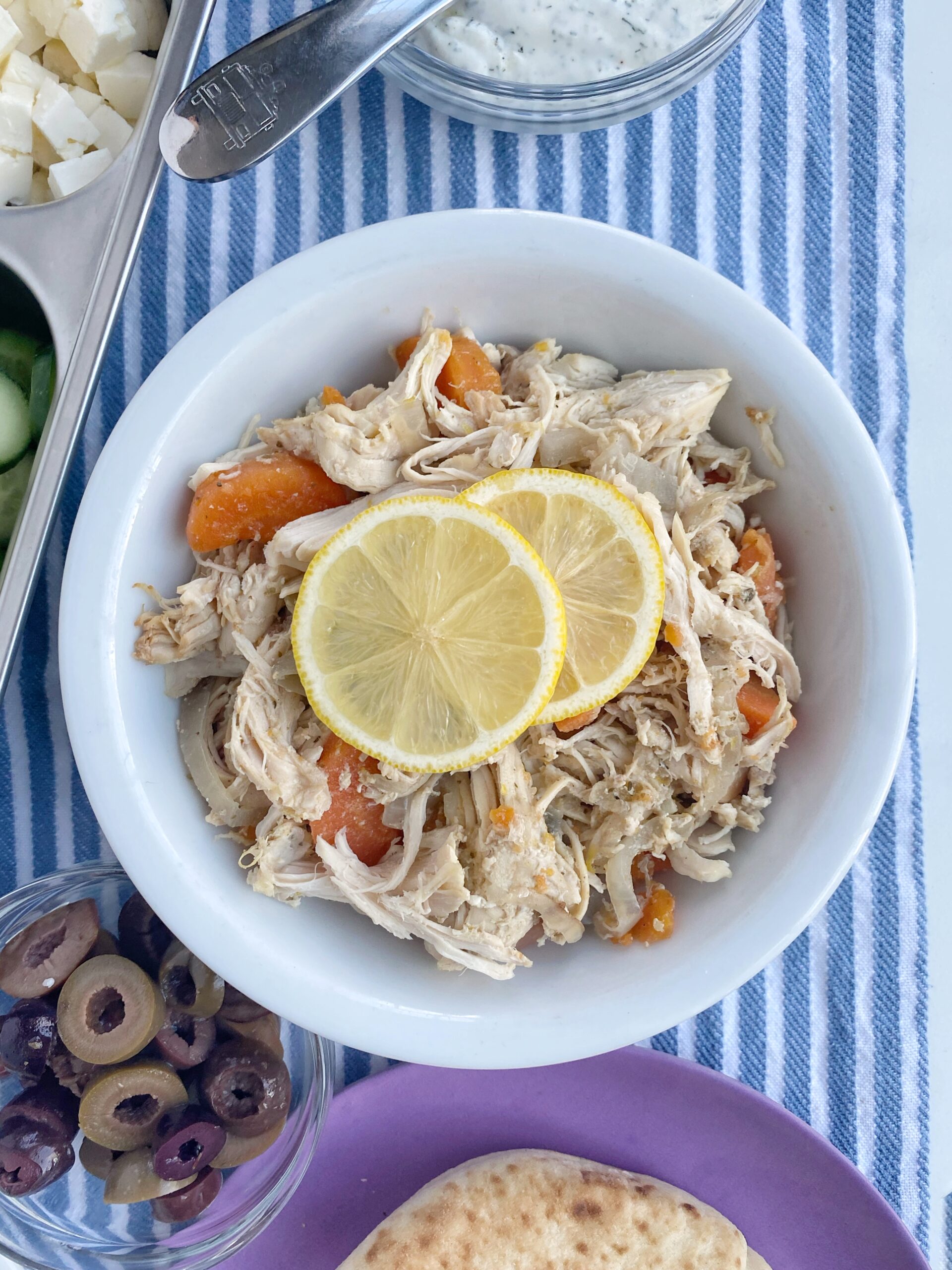 Slow Cooker Lemon Garlic Chicken
Flavorful and tender chicken makes the base for so many easy weeknight meals. This makes a big batch to use for several meals or freeze but you can easily make 1/2 the recipe instead.
Equipment
6 to 8 quart slow cooker/crockpot
Ingredients
Lemon Garlic Chicken
1

large onion, thinly sliced

3 to 4

large carrots, peeled and cut into 1/2-inch pieces

or baby carrots, halved

4

pounds

boneless, skinless chicken breasts and thighs

I use 2 pounds of each

2

Tbsp

extra virgin olive oil

6

garlic cloves, minced

2 Tbsp minced garlic

2

lemons, zested and juiced

2

tsp

kosher salt

1/2

tsp

ground black pepper

2

tsp

garlic powder

2

tsp

dried Italian seasoning or dried oregano
For Greek-inspired pita sandwiches and salads
1

head

romaine lettuce, sliced

1

pkg

grape tomatoes, quartered

or 2 large tomatoes, diced

4

persion (mini) cucumbers, sliced

or 1/2 English cucumber, diced

4

oz

feta cheese, diced or crumbled

1/2

cup

Greek olives, sliced (optional)

white or whole wheat pita bread
Yogurt Herb Sauce
1

cup

plain Greek yogurt

I use whole milk but any kind will work

1

Tbsp

lemon juice

1

Tbsp

olive oil

1/4

tsp

kosher salt

1/2

tsp

honey (optional)

1

tsp

dried dill

(or 2 Tbsp of any fresh minced herbs you like)
Instructions
Add onion and carrots into the bottom of the slow cooker. Place chicken on top of the vegetables then drizzle with olive oil. Add garlic, lemon zest, lemon juice, and seasonings. Use tongs or a large spoon to mix the chicken with other ingredients.

Place the lid on your slow cooker and set to HIGH for 4 to 5 hours or LOW for 6 to 7 hours. I like to remove the lid for the last hour of cooking to reduce the liquid, if possible.

When cook time is up, use tongs or two forks to shred the chicken. Use chicken and vegetables as disired, in sandwiches, on salad, in soup

Store cooked chicken in an airtight container in the fridge for 5 days or freeze for up to 3 months.
For Greek-inspired pita sandwiches and salads
Warm pita in the oven or toaster then cut in half. Spread the inside of the pita with the yogurt sauce (or serve it on the side), add the shredded chicken, vegetables, and whatever toppings you desired.

For salads, add some lettuce to a plate, top with a serving of shredded chicken, then add toppings and yogurt sauce as desired.
Yogurt Herb Sauce
In a medium-sized bowl, stir together the yogurt and remaining ingredients until combined. Taste and adjust seasoning as desired. Serve with chicken.

Store sauce in the fridge for up to 4 days.
Want more SLOW COOKER and ONE POT DINNER recipes??
Check out my ebook, Simply Satisfying Meals: 30 Stress-Free Dinners to Feed the Whole Family. Click HERE to see the full recipe list, allergy/dietary info, and all details!
Save to Pinterest!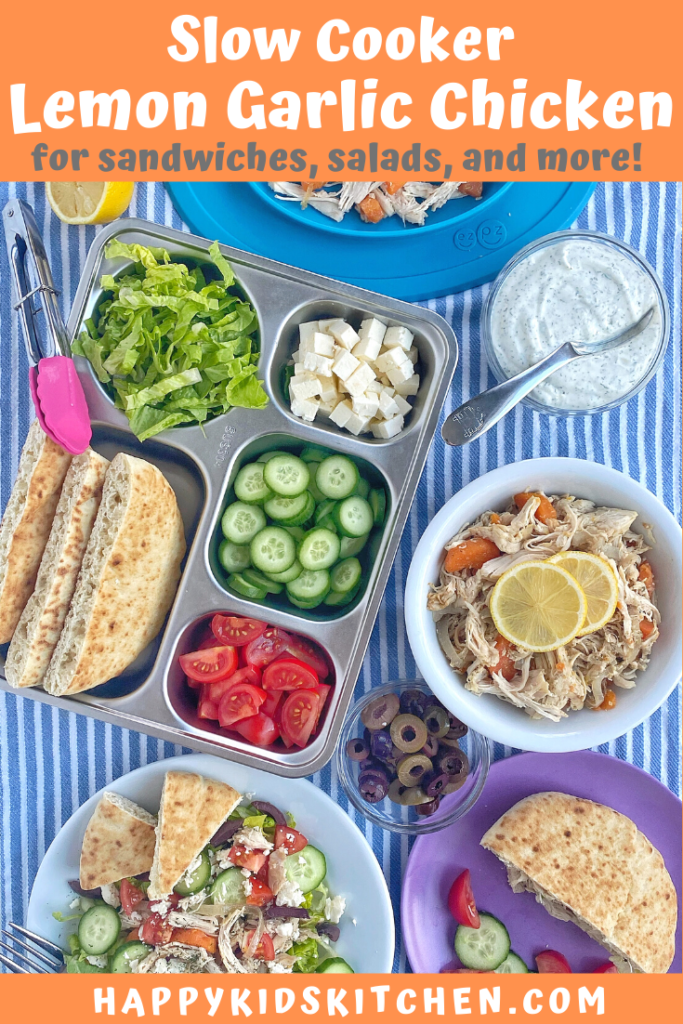 Chicken Sausage, White Bean, and Kale Soup
One Pot Pasta with Veggie Packed Sauce
Grilled Chicken Cobb Salad with Strawberry Dressing