No-Boil Pasta Bake (with Veggies!)
This recipe is a weeknight dinner miracle! To make No-Boil Pasta Bake, you add everything to a baking dish, including pasta straight from the box, mix it with sauce and veggies, and bake it! Totally hands off and no cooking the pasta before-hand at all! I kept the basic recipe simple. However, You can customize this healthy pasta dish with whatever you'd like. Sausage, chicken, broccoli, different cheeses, or any flavors you love with pasta are easy to mix in.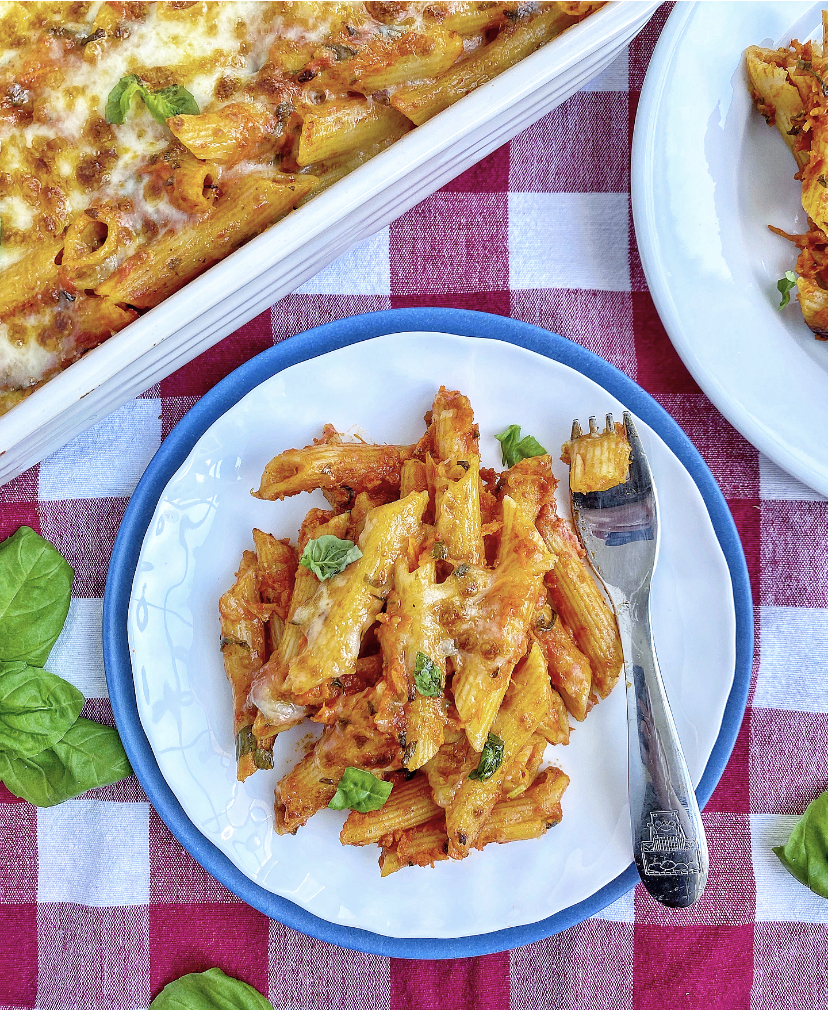 Kids in the Kitchen:
Veggie prep!: Kids can help grate the carrot or help chop whatever vegetables you decide to use in you pasta dish. Don't hide those veggies, let kids help put them into the pasta dish.
Dump and stir: have kids add everything to the pan then stir it up. Yes, the stirring part could get messy but you can always wipe off the sides of the pan with a paper towel after.
Measure then pour the water: this part should be pretty simple and it's a great opportunity to talk about measuring a liquid. Your child can then carefully pour the water over the pasta in the pan.
Sprinkle the cheese: this step is best for older children since the pan will be hot and you have to make sure the child understands not to touch the pan while adding the cheese. However, you can let any aged child help measure the cheese and then watch you sprinkle it over the hot pasta.
Subs and Tips for making No-Boil Pasta Bake:
Gluten-free?: I have only tested this recipe with wheat pasta, but I think it would work with any other pasta types you want to use. In the comments, let me know what kind of pasta you use and how it works out!
Dairy-free: You could definitely use a dairy-free shredded cheese substitute for the top of the pasta if you'd like. If you leave out the parmesan in the pasta, you will want to add some extra salt (prob about 1/2 teaspoon) in with the tomato sauce.
Add-in suggestions: you can really add in anything you usually enjoy with your pasta. Cooked sausages, diced chicken, other cheeses such as goat cheese or fresh mozzarella pieces. If you like your pasta with a creamy sauce, replace half of the water with some milk or stir in something creamy like ricotta or cream cheese after the pasta is done cooking.
Other veggies?: any raw or frozen vegetables would work well mixed in with that pasta. Examples: grated zucchini, small florets of broccoli, diced peppers…what would you add?
Other seasonings: bump up the flavor of your baked pasta with whatever dried seasonings, fresh herbs, or spices you enjoy with pasta. Garlic powder, dried Italian seasoning, chili flakes, fresh basil, would all be great things to add.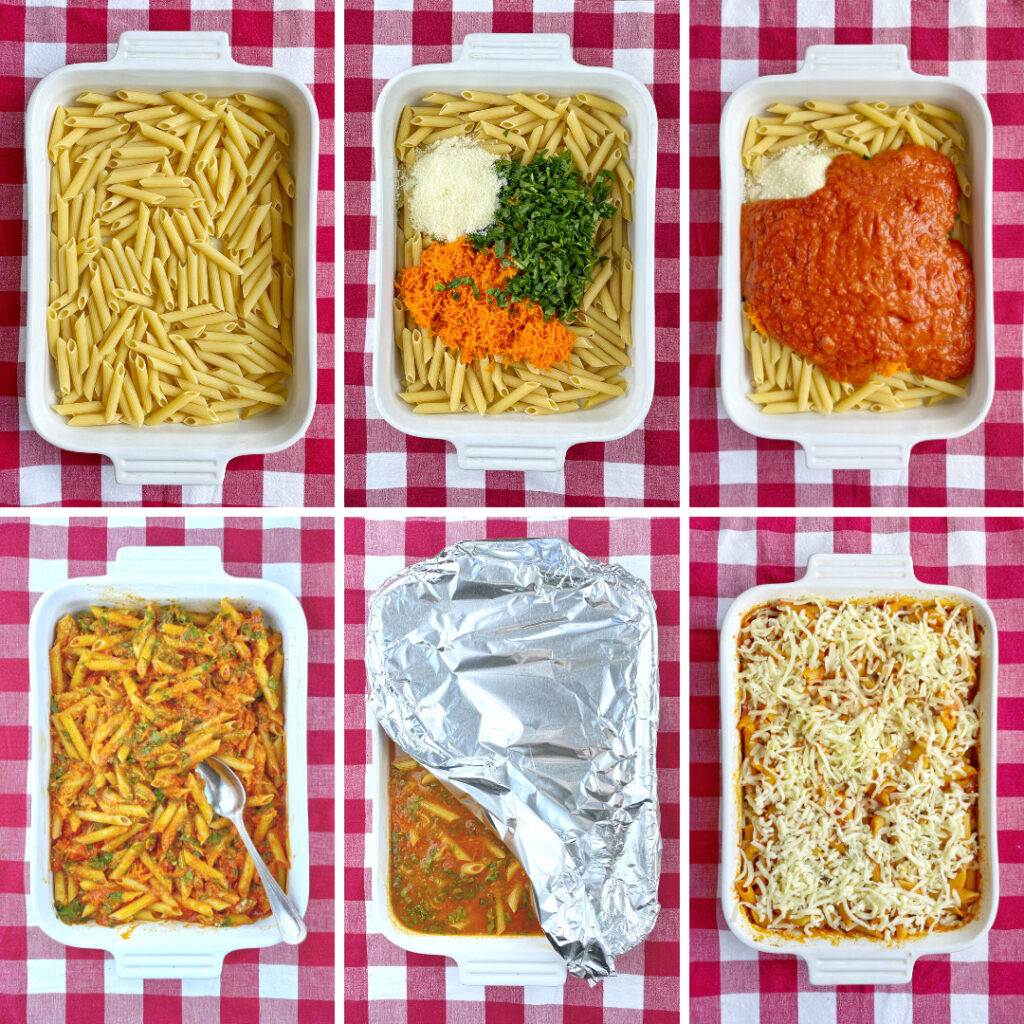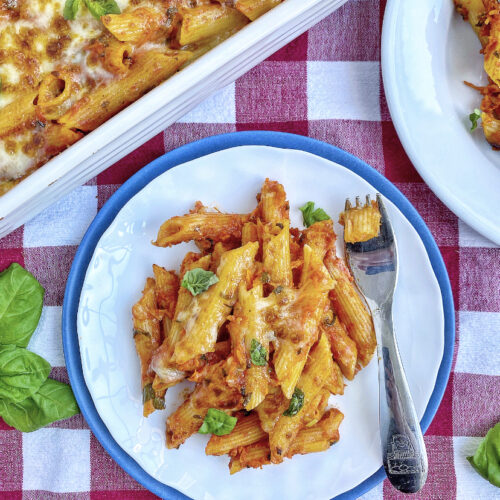 No-Boil Pasta Bake (with Veggies!)
The easiest pasta dinner.
Ingredients
1

Tbsp

olive oil

16

ounces

small shaped pasta such as penne, fussili, or ziti

1/2

cup

finely grated carrot

or any veggies you like

1

cup

finely chopped baby spinach

or any leafy greens

1/3

cup

grated parmesan cheese

24-28

ounce

jar marinara sauce (Rao's in my favorite)

2 1/2

cups

water

2

cups

shredded mozarella cheese
Instructions
Preheat oven to 400 degrees. Grease a 9-by-13-inch baking pan with the olive oil.

Add pasta, veggies, parmesan cheese, and marinara sauce to the baking pan. Stir well to mix then spread into an even layer. Pour water over the top then give the pan a shake or stir a bit to make sure the water is evenly distributed.

Cover the pan tightly with aluminum foil and bake for 35 to 40 minutes. (If you pasta still seems undercooked at this time, see note below.)

Carefully remove foil with an oven mitt then sprinkle mozzarella cheese evenly oven the top of the pasta. Broil until cheese is golden brown. Serve warm.
Notes
Note: If the pasta is still undercooked after the cook time instructed, stir it up and make sure there is still some liquid in the pan. If the liquid has been fully absorbed, add an additional cup of water and cover the pan tightly with foil. Place the pan back in the oven and cook for 20 more minutes then taste the pasta again. Some people have reported having to cook the pasta for up to an hour to an hour and 15 min for it to be fully cooked.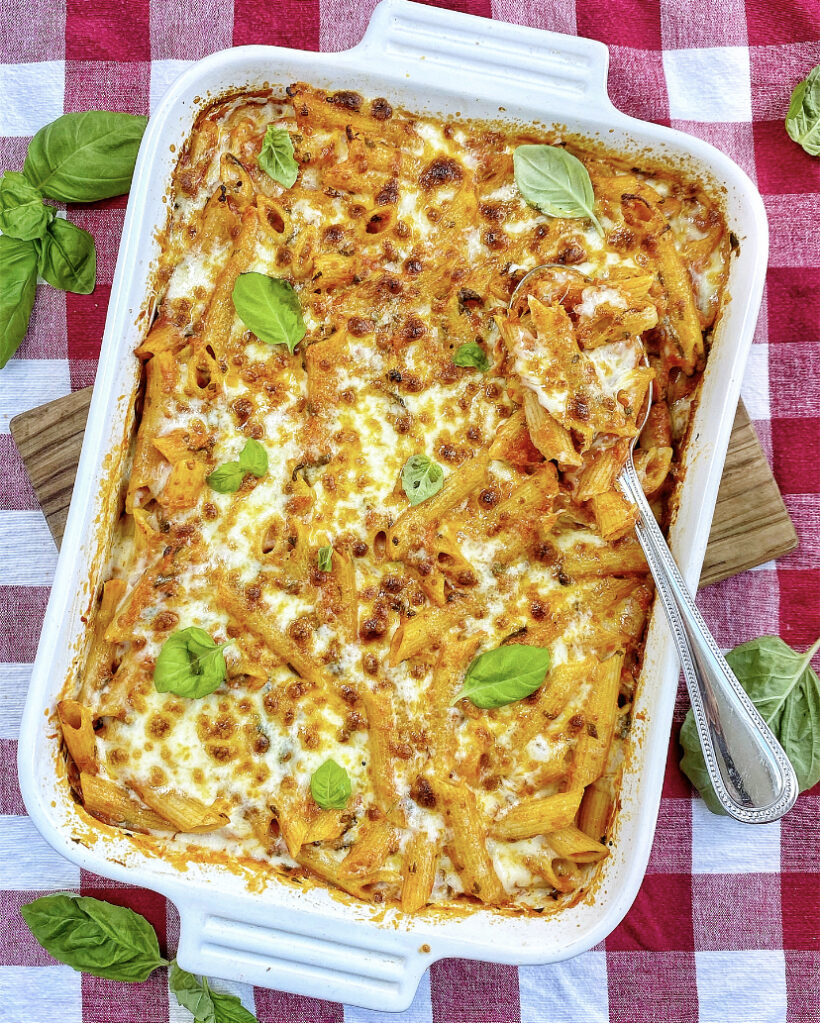 Save to Pinterest!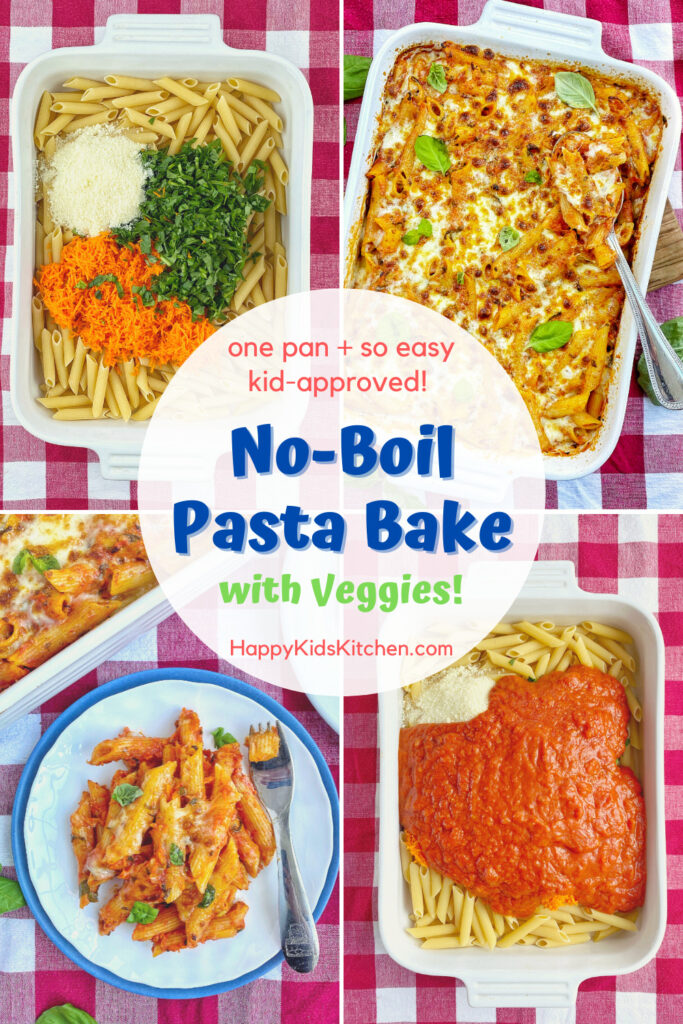 Quick Dinner Recipes:
Stuffed Pizza Bites (with Veggies)
Teriyaki Turkey and Veggie Meatballs
Easy Veggie and Bean Quesadillas