Sweet Apple Salsa with Baked Cinnamon Chips
Celebrate Fall with this fun and healthy snack for kids! Sweet Apple Salsa with Baked Cinnamon Chips is a great recipe to get kids into the kitchen. Use up those all of those apples from your family apple picking outing or just buy a few varieties from the store. This easy dip and chip combo is low in added sugar, but tastes like apple pie!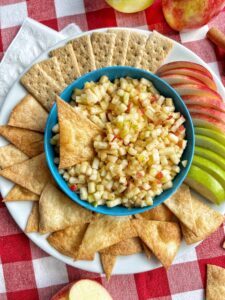 Kids in the Kitchen:
I created this recipe to make in my preschool cooking classes, so it's meant to use lots of fun tools and get kids involved in every step. Although, if you are making it at home, you can pick and choose which parts you'd like your kids to help with. For older kids, they can make this recipe with minimal help from an adult.
Chips: Set up a station with a cutting board, oil in a little bowl, a pastry brush, a second small bowl for the cinnamon-sugar, and a pizza wheel (or adults can help use a knife). Show your child how to make one tortilla by painting it with the oil and then sprinkling it with the sugar. I find it helpful to hold the pizza wheel with the child so you can guide their hands while cutting the tortilla into wedges.
Apples: If you aren't using a chopper or food processor to cut the apples really small, prep the apples into thin strips. When you cut the apples into strips it's easier for kids to use a child-safe knife to cut across into a small dice.
Mix: Use a large bowl to mix the diced apples with the other ingredients. This will make it easier for kids to stir and not spill a lot out of the bowl.
Subs and Tips for making Sweet Apple Salsa:
Types of apples: Any kind of apples will work in this recipe, but it's best to use a mix of colors and flavors from different types if you can. I love Honeycrisp, Gala, Golden Delicious, and Granny Smith.
Sweeteners: I like the taste of honey in this recipe. However, maple syrup is also delicious. You can also use any other sweeteners that you have like granulated sugar or brown sugar.
No sugar added: For those that want to reduce or keep sugar out of this recipe, you can easily do that by removing any additional sweeteners (the sugar in the chips and the honey in the salsa). The apples will give the salsa plenty of natural sweetness, especially if your child isn't used to added sugar.
Tortillas: You can use gluten-free tortilla, almond flour, or any other tortillas you like.
Helpful equipment: In my classes we use a small vegetable chopper to cut the apples into tiny pieces. However, at home I have a larger one that has different sized blades and multiple attachments. There are many different kinds, so you can find one on Amazon that suites your needs best. This is the pizza wheel I like best for kids. Any other equipment suggestions can be found in my blog post, The Best Cooking Tools for Kids.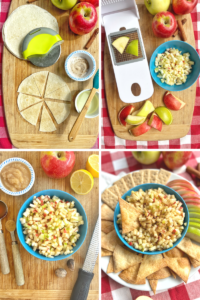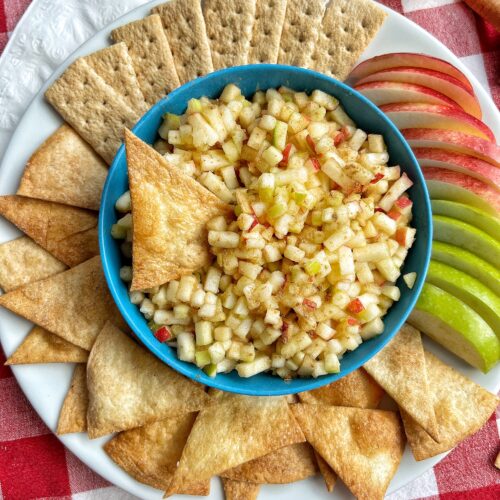 Sweet Apple Salsa with Baked Cinnamon Chips
Ingredients
Baked Cinnamon Chips
1

Tbsp

sugar (granulated, coconut, or maple)

1/4

tsp

cinnamon

tiny pinch of salt

4

8-inch flour tortillas

or other small tortillas of your choice

1

Tbsp

avocado or vegetable oil or oil spray
Sweet Apple Salsa
2 to 3

apples (4 cups when diced)

use a few different kinds

1

Tbsp

lemon juice

1/2

cup

unsweetened applesauce

1 to 2

Tbsp

honey or maple syrup

or to taste

1/2

tsp

cinnamon

pinch

nutmeg

optional
Instructions
Baked Cinnamon Chips
Heat the oven to 350 degrees. Line a sheet pan with parchment paper, foil, or a silicone mat.

Mix the sugar, cinnamon, and salt together in a small bowl.

Use a pastry brush to paint both sides of each tortilla with oil or spray each side with the oil spray. Sprinkle both sides or each tortilla with a big pinch of the cinnamon sugar.

Cut the tortillas into 8 chip-shaped wedges. (I use a pizza wheel but a knife works too.) Place the chips onto the baking sheet. They can be touching but not overlapping.

Bake the chips until golden brown, about 10 minutes. Keep a close eye on them because they can burn easily.
Sweet Apple Salsa
Cut the apples into a very small dice. You can do this a few different ways: 1. Use a vegetable chopper (one is linked in the blog post) which is easy and fun for kids to use too. 2. Use a knife to cut the apples into small into cubes. 3. Cut apples into small chunks then pulse in a food processor to finely chop (don't blend too much for you'll get mush).

Add the chopped apple to a large bowl and toss with the lemon juice. Stir in the applesauce, honey/maple syrup, cinnamon, and nutmeg. Taste and add more sweetener or lemon juice as needed.

Serve the apple salsa with the baked cinnamon chips (or graham crackers). The salsa will release juices as it sits, so stir it up occasionally. The salsa can be stored in the fridge for a few days (but it may brown a little bit).
Save to Pinterest!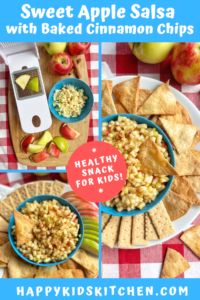 Other Apple Recipes:
Healthy Apple Recipes to Cook with Kids
Baked Apple Cider Donuts (or Muffins)