Healthy Chocolate Dip or Spread (with Dates!)
Dates are a nutritional powerhouse and I love using them to naturally sweeten desserts. This recipe for Healthy Chocolate Dip or Spread was inspired by a store-bought chocolate spread that my kids love. My homemade version has only 3 ingredients and is so much lower in sugar. Date, cocoa powder, vanilla, and a little salt…that's it! We also sometimes add almond butter (or any nut/seed butter) as a creamy protein boost, making it an awesome toast or sandwich spread.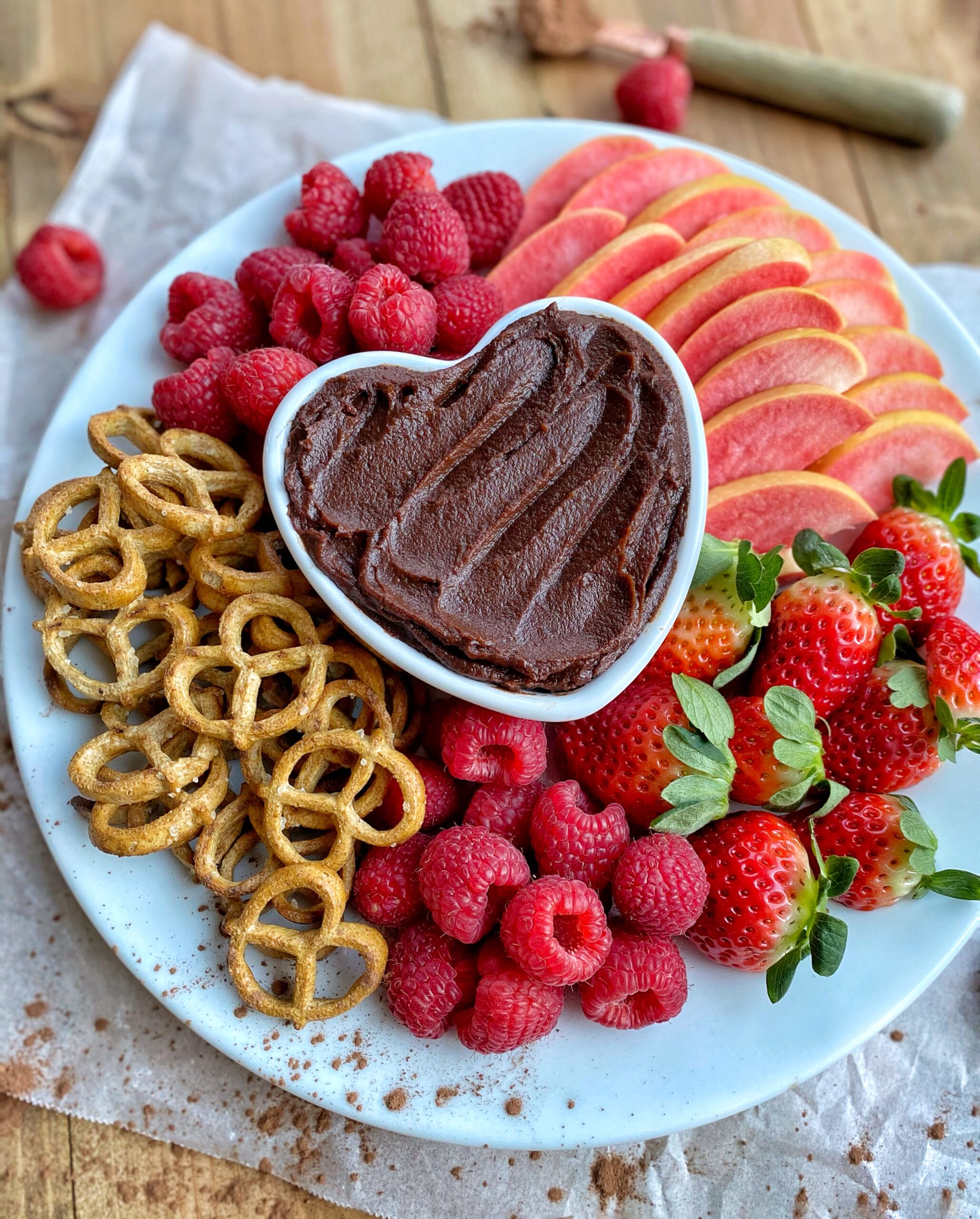 Kids in the Kitchen:
Dates: Kids can help put the dates into a container and taste one if they are curious. After the dates are soaked and cool enough to handle, kids can help remove the pits. (Just be sure to check their work because you don't want to accidentally get a date in the blender.)
Measure and Add: kids can measure the cocoa powder, vanilla, salt, and almond butter, if using, and add them right into the blender.
Blend!: Have your little one help work the blender. Talk about how to use the blender safely and always making sure the top is on tightly before pressing any of the buttons. Also, blending can be loud for little ears, so be sure to warn your child about the noise and have him or her cover his/her ears during the blending.
Get Creative: make a fun platter together with your dip and have your child help pick out different fruit or snacks to artfully arrange on a plate. Or let your little help spread some date dip on a piece of toast. One tip: sprinkles make everything better. 😉
Tips and Subs for making Healthy Chocolate Dip or Spread:
Dates: Medjool is the best date variety for this recipe. I buy my dates at Costco, but I have also seen them at Trader Joe's, Whole Foods, and other stores. If you can only find pitted dates, those will work fine as well. However, I prefer to buy whole dates (not pitted) because they tend to not dry out as fast.
Cocoa or Cacao: Really any kind of cocoa powder you have at home will work in this recipe.
Additions: You can flavor your chocolate dip however you'd like. A little ground cinnamon would be a great addition. I like to add almond butter because it reminds me of the Trader Joe's Cocoa Almond Spread. Add a couple tablespoons of hemp seeds for a nutrition boost.
Helpful Tools: I've have a VitaMix blender for 15 years and can't live without it. You can buy refurbished ones on Amazon for a lower price and they are very good quality. I'm obsessed with this set of little silicone spatulas HERE. They are great for so many things, but especially scraping down the sides of a blender and scooping out this dip. To see all my kitchen favorites and cooking tools for kids, click HERE (Amazon affiliate store).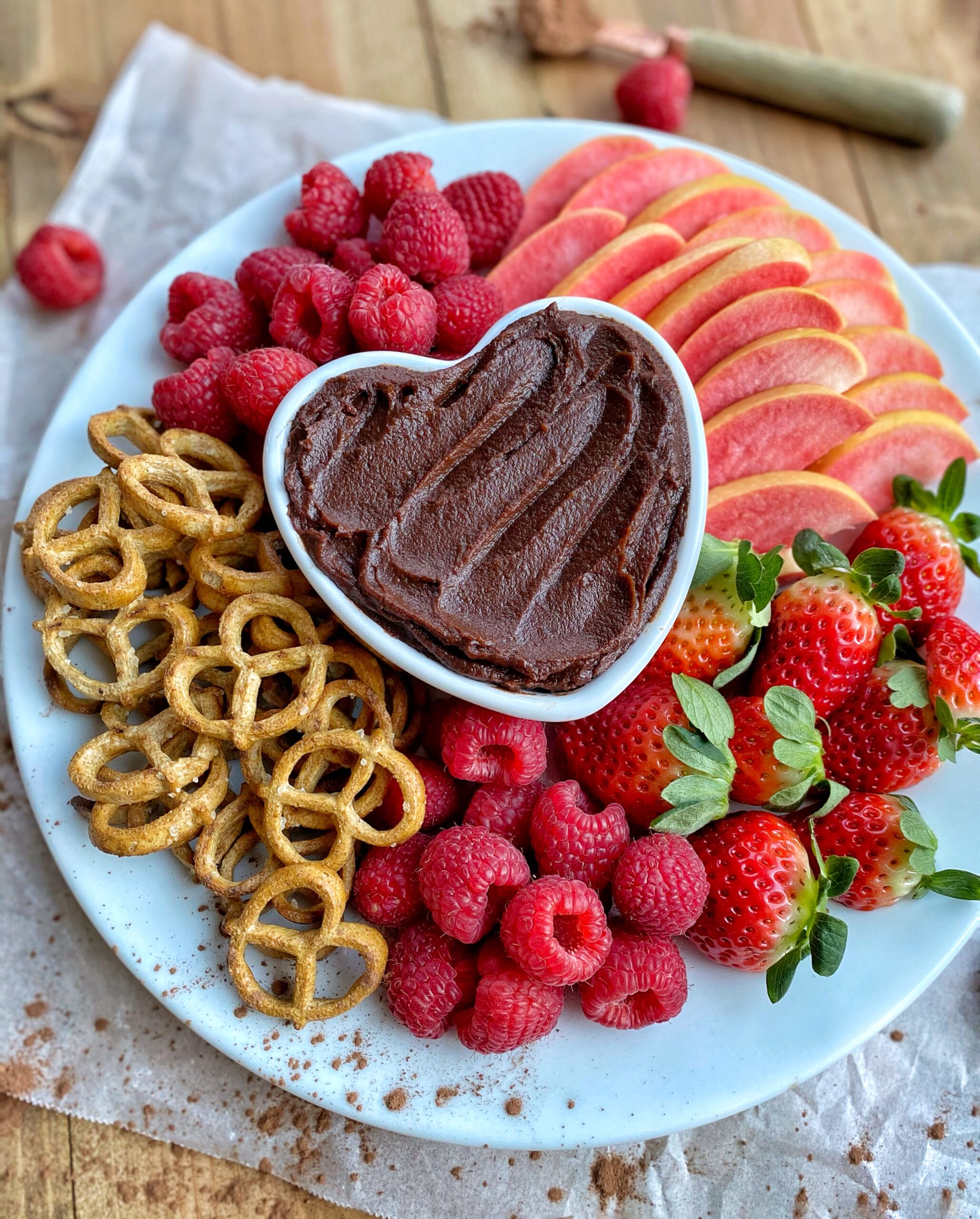 Healthy Chocolate Dip or Spread
Date-sweetened, low sugar chocolate spread with only 3 ingredients!
Equipment
Blender, preferably high speed or a food processor
Ingredients
2

cups

Medjool dates

3

Tbsp

unsweetened cocoa powder or cacao powder

1/2

tsp

vanilla extract

1/4

tsp

fine salt

1/4

cup

almond butter

or any nut/seed butter
Instructions
Place your dates in a bowl or mason jar. Cover with very hot or boiling water. Allow to soak for at least an hour or up to overnight, depending on how dry your dates are. To know they have soaked enough, the dates should be very soft and easily squish between your fingers.

Drain off the water then make sure to remove the pits from the dates. You don't want to forget one and accidently try to blend it up. Place pitted dates into the blender then add cocoa, vanilla, and salt. Don't skip the salt. It really brings out the chocolate flavor. Add the almond butter, if using.

Blend until very smooth. This will take a while and you may have to stop and scrape down the sides of the blender a few times. If your blender is having trouble, add a few tablespoons of water to get things going. Taste and add more salt or cocoa if you'd like.

Serve as a dip with fruit, pretzels, graham crackers, and more. Use as a spread on toast or sandwiches. Keep chocolate dip/spread in an airtight container in the fridge for up to 2 weeks.
Save to Pinterest!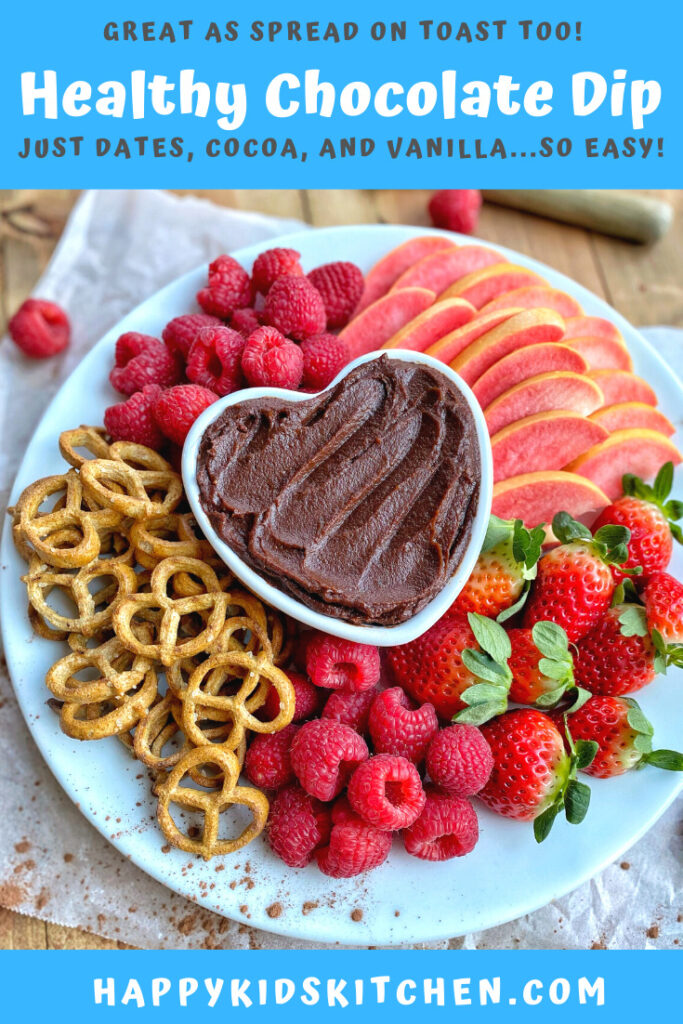 Check out more delicious chocolate recipes here:
Healthy Chocolate Recipes to Cook with Kids
Want more date sweetened recipes? My ebook, No Sugar Still Sweet, is filled with over 20 dessert and baked good recipes that are only sweetened with fruit. For more info, click HERE.