Healthy Baked Cinnamon Apples with Pie Crust Cookies
Want to enjoy the delicious taste of apple pie without all the work? Healthy Baked Cinnamon Apples is a recipe simple enough for kids to help cook for Thanksgiving or any holiday meal. These baked apples are a lot healthier than traditional apple pie too. Refined sugar free and easy to make dairy-free and gluten-free too, you can make this recipe work for any dietary needs. While the apples are roasting, kids will have so much fun cutting store-bought  pie dough (or any leftover homemade pie dough you might have) into shapes with cookie cutters and sprinkling them with a little cinnamon-sugar. Top with a little ice cream or Greek yogurt and you have the best, easy dessert that your family will love.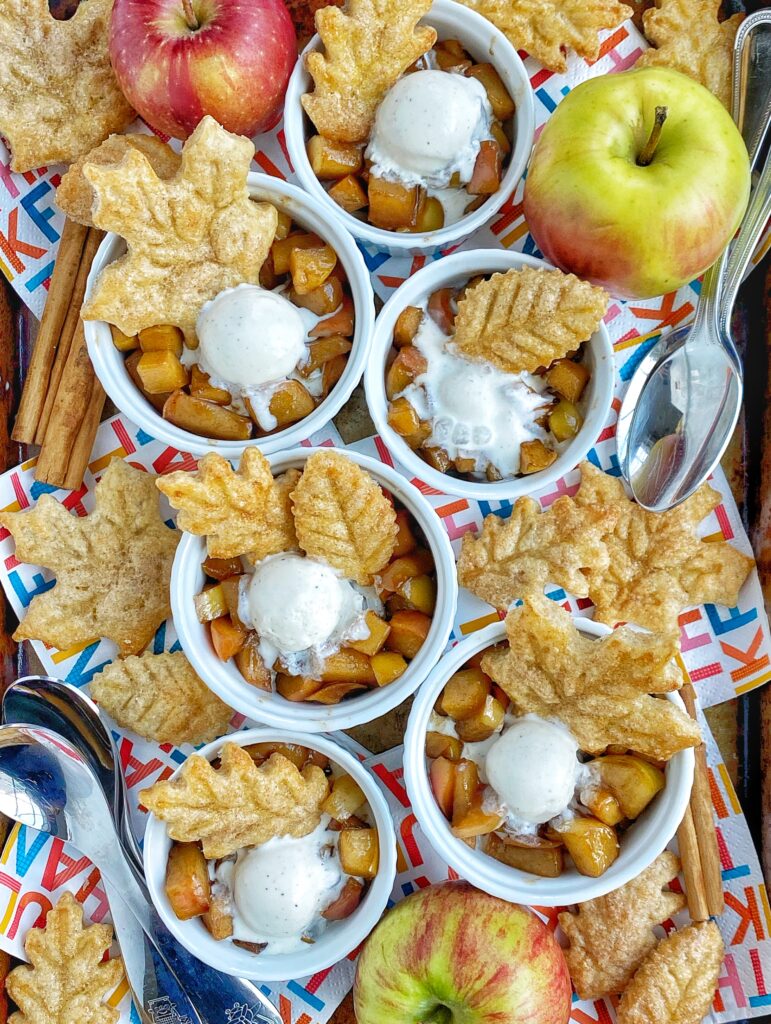 Kids in the Kitchen:
I specifically designed this recipe to be an apple pie that kids can easily make with you! Here are some tips and specific ways little chefs can participate. Remember that kids don't have to complete the whole recipe. You can choose to have your child help with one or two of the steps below.
Chop those apples! To make it easier for little hands to cut apples, cut the apple into 1/4-inch slices before having your child help. That way the child can take one slice at a time and cut it into a dice. Chop alongside your child since there are 4 apples to chop in this recipe. Want more info on child-safe knives? Head to my blog post, Teaching Knife Skills to Toddlers and Kids (Safety and Basics).
Measure and mix: there are only a handful of ingredients in this recipe, so have you child help gather and measure them. Add them to the bowl with apples and toss everything together…clean hands are the best tool for that job!
Roll and cut dough: Show your child how to gently roll the dough with a rolling pin. If you are using pre-made dough, you will only have to roll the dough slightly to even out the surface or you can even just press it out with your hands. Use cookie cutters or a pizza wheel to cut out the pie dough in shapes or strips.
Brush and sprinkle: Kids will have so much fun "painting" each pie crust cut out with egg or water then showering them with yummy cinnamon-sugar. Teach your child to take a pinch of the sugar then sprinkle it up high over the pie dough so the sugar is evenly distributed over the surface.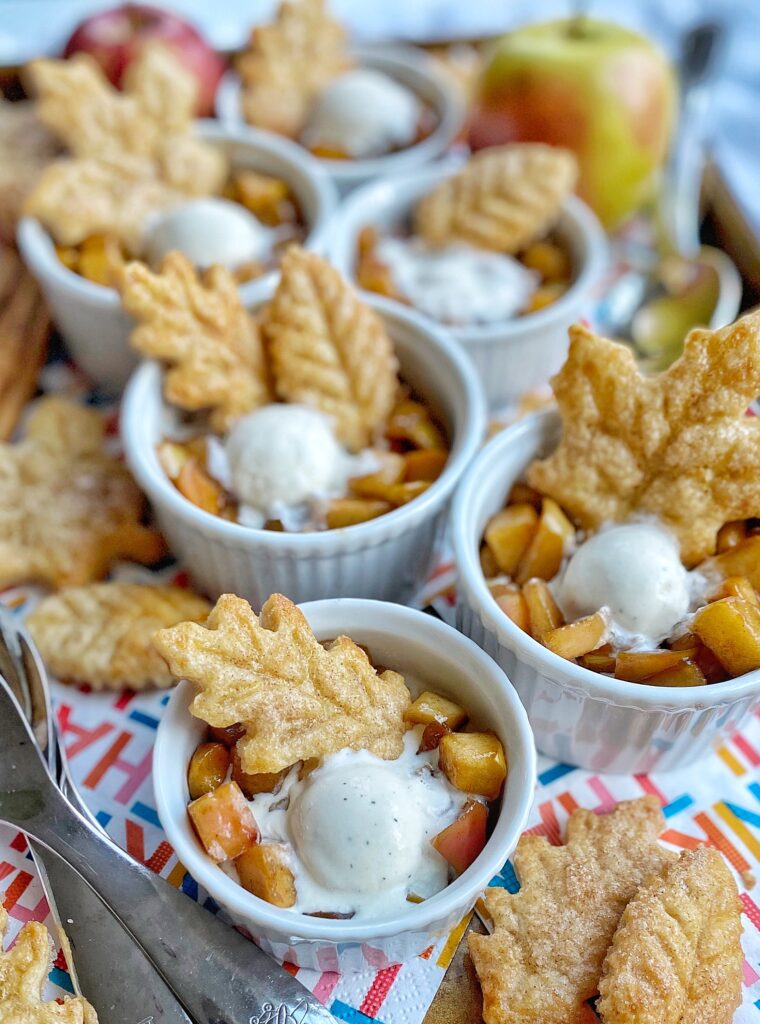 Subs and Tips for making Healthy Baked Cinnamon Apples:
Pie dough: There is a variety of pie dough available in most grocery stores these days. Pillsbury is the most ubiquitous one, but I also like one with slightly better ingredients such as Wholly Wholesome or Immaculate Baking Company. Buy pie dough in the box not pie dough that's already pressed into a pie pan. If you'd like to make your own pie dough, I really Yummy Toddler Food's recipe for Easy Whole Wheat Pie Crust.
Gluten-free? Use a gluten-free pie dough, either buying one or making your own. Here is a recipe for a homemade gluten-free pie crust from marthastewart.com.
Dairy-free? The baked apples in this recipe are naturally dairy free, but here are some suggestions to make sure the other elements of this dessert are dairy-free as well. Most store-bought pie crusts use oil instead of butter, but just be sure to check the package ingredients before you buy it. There are so many great dairy-free vanilla ice cream options these days too. You could also top your apples with some dairy-free whipped coconut cream.
Apples? I love using Honeycrisp apples because they are firm and tart, but feel free to use any kind of apples you'd like or a mix of different apples. All apples will cook at different rates to start checking your apples for doneness around 25 minutes.
No cookie cutters? Use a pizza wheel or a pairing knife to cut your pie dough into strips or squares. Make the strips of dough look fancy by using the tines of a fork to make marks all around the edges.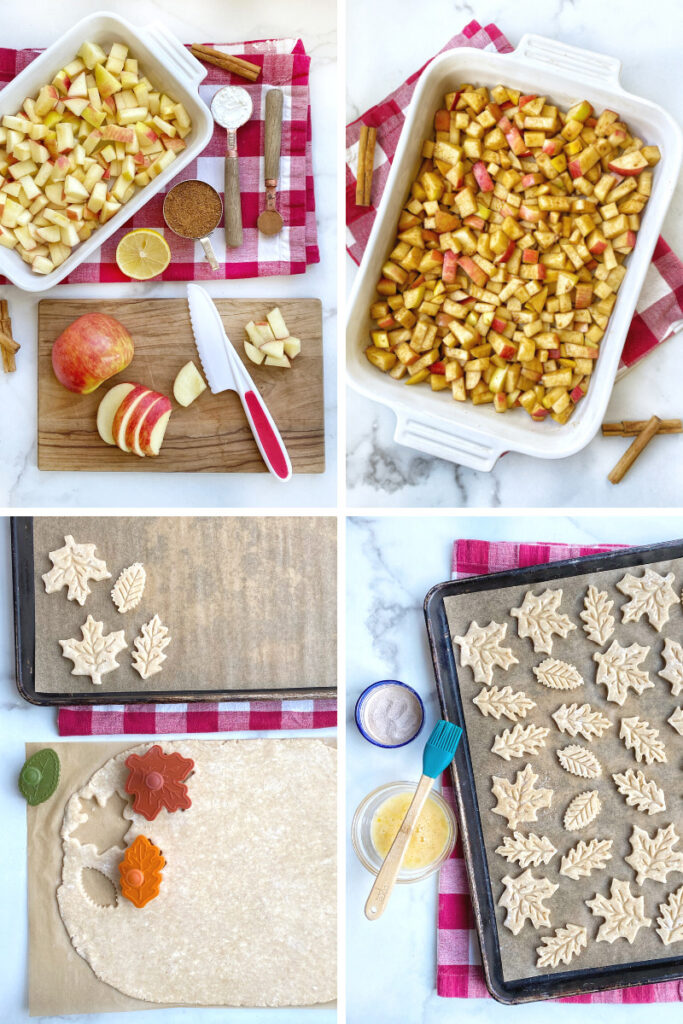 Helpful Tools and Supplies:
Pie dough cutters: The leaf design cutters I have are from Williams-Sonoma available HERE, but there are also similar one available on Amazon HERE. You can also use any shape cookies cutters you have on hand or cut leaf shapes with a pairing knife.
Rolling pin: I really like this rolling pin and silicone mat set available on Amazon. It's also fun to get kids a mini rolling pin to use while helping. This is a nice option HERE.
Parchment paper: I roll out my pie dough and bake pretty much everything on these pre-cut unbleached parchment paper sheets. I couldn't live without them! Available on Amazon HERE.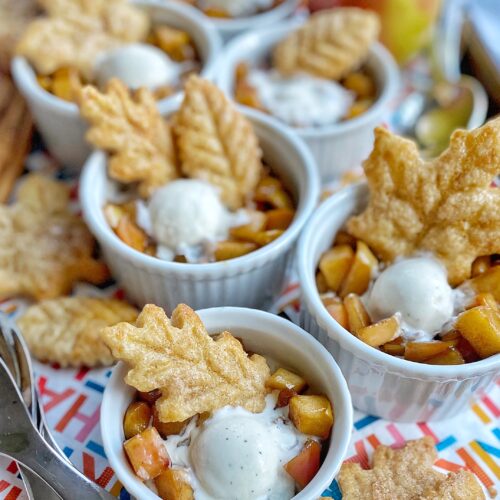 Healthy Baked Cinnamon Apples with Pie Crust Cookies
Easy, lower sugar baked apple pie filling topped with cinnamon pie crust cut-outs.
Ingredients
4

large apples

such as Honeycrisp or Granny Smith

2

Tbsp

fresh lemon juice

1/3

cup

coconut sugar or brown sugar

1

Tbsp

cornstarch or tapioca flour

3/4

tsp

cinnamon

1

Tbsp

maple syrup or honey

1

pinch

salt

1/2

cup

water

vanilla ice cream or Greek yogurt, for serving
Pie Crust Cookies
1

package

store-bought pie crust

or 1 recipe homemade pie dough

1

egg

optional

1/4

cup

maple sugar, coconut sugar, or granulated sugar

1/4

tsp

cinnamon
Instructions
Preheat oven to 400 degrees. Grease a 9X13 baking dish or other large baking pan with oil or spray with oil.

Cut apples into a 1/4-inch dice and place in a large bowl. Add remaining ingredients (besides ice cream) and toss to coat apples evenly. Dump into baking dish and roast until apple are tender and coated in a caramel sauce. Check apples after 30 minutes. If the bottom of the pan is getting too brown, add a little more water and continue to cook until apples are done. Once apples are cooked, set aside to cool slightly.

While apples cook, make pie crust cookies. Unroll pie crust onto a clean work surface or if you are using homemade pie dough roll it out 12-inch thick. Use cookie cutters to cut dough into desired shapes. You may have to dust dough with a little flour if it is gett too sticky to cut out.

Place shapes onto a baking sheet (line with parchment for easier clean-up). If you don't have cookie cutters, you can use a pizza wheel or paring knife to cut the pie dough into strips. Beat egg with a splash of water (or just use plain water to make egg-free) then brush egg wash onto pie dough. Mix sugar and cinnamon then sprinkle over. Bake until golden brown, 10 to 12 minutes.

To serve, spoon baked apples into individual serving dishes or small bowls. Top with ice cream or yogurt and a few pie crust cookies. Enjoy!

Apples can be made 2 to 3 days ahead and stored in the refrigerator. If you'd like to serve the apples warm, heat in microwave or in a pot with a splash of water to prevent burning. Pie crust cookies can be made a day ahead and stored at room temperature.
Save to Pinterest!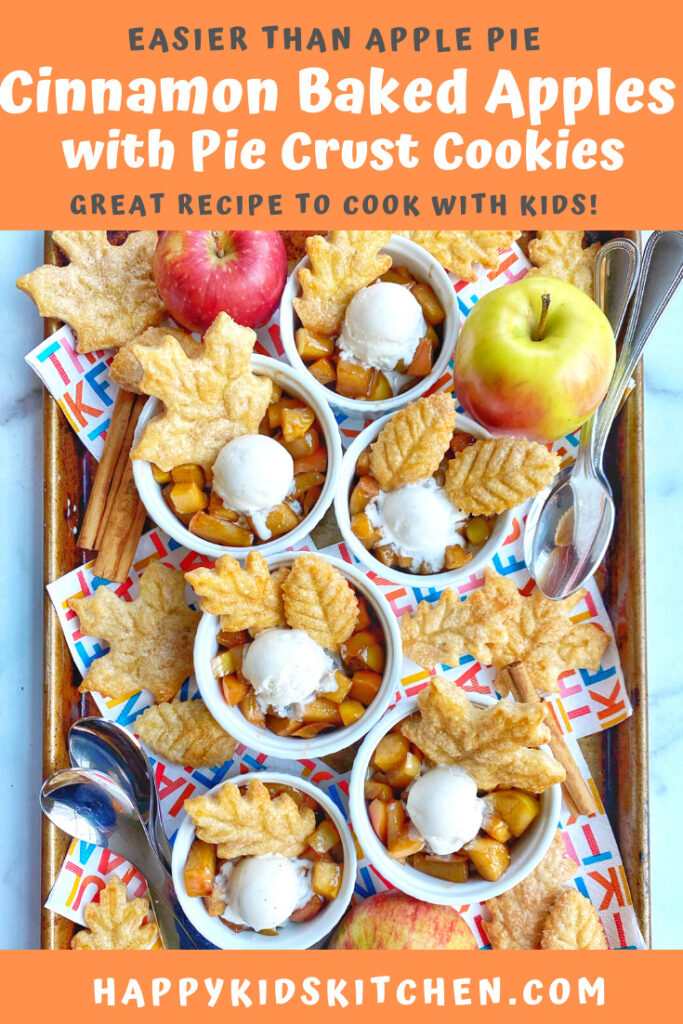 More dessert recipes to try:
Healthy Pumpkin Cookies with Maple Glaze