Summer Fruit Breakfast Crumble
Use up whatever fruit you have lingering in the fridge and turn it into a warm crumble that's wholesome enough to eat for breakfast. Of course, you could also top it with some vanilla ice cream and enjoy it for dessert too. Summer Fruit Breakfast Crumble happens to be vegan, gluten-free, and sweetened with maple syrup.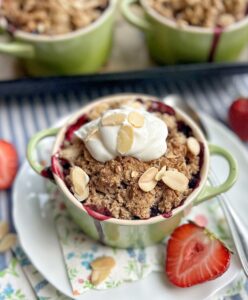 Kids in the Kitchen:
Fruit prep: Kids can use a child-safe knife to help prepare the fruit. They can cut the tops off the strawberries or dice pieces of peach. For larger fruit, cut them into smaller slices then give the slices to your child to cut across into a dice. Find more tips of teaching kids to use a knife in my blog post, Knife Skills for Toddlers and Kids.
Measure and mix: Have kids add the other ingredients to the fruit and mix them together. Kids can also mix the crumble topping. Make sure to use a large bowl so the flour doesn't get tossed over the side and make a bigger mess.
Since the topping is put onto a dish that just came out of the oven, I wouldn't have kids help put the crumble topping over the fruit in case they accidentally touch the very hot pan.
Subs and Tips for making Summer Fruit Breakfast Crumble:
Oats: I use quick-cooking oats ("quick oats") for this recipes. If you only have regular rolled oats at home, pulse them in a food processor until they are broken down into smaller bits and then measure that for the recipe.
Gluten-free: to make sure to use gluten-free oats and oat flour (or other gluten-free flour) if you want the crumble to be gluten-free.
Nuts: I love the crunch and nutrients almonds add to the crumble topping. However, you can really use any nuts or seeds you like. Hemp seeds would be a great way to boost the protein level of this dish since there's 4 grams in 1 tablespoon.
Nut-free?: Use tahini or sunflower seed butter in place of the almond butter in this recipe. You can leave out the nuts entirely or use seeds like pumpkin seeds instead.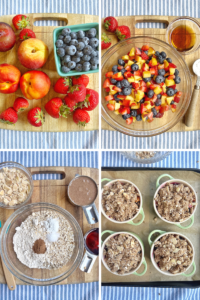 Summer Fruit Breakfast Crumble
Any fruit you have topped with a wholesome oat crumble. Easy and healthy enough for breakfast but delicious for dessert too.
Ingredients
4

cups

diced fruit, such as peaches, nectarine, plums, strawberries, blueberries, blackberries

1/3

cup plus 2 Tbsp, divided

maple syrup

1

Tbsp

lemon juice (optional)

1

Tbsp

cornstarch

1

cup

quick-cooking rolled oats

1/2

cup

oat flour, whole wheat flour, or all-purpose flour

1/2

cup

natural-style almond butter (just almonds)

or use tahini for a nut-free option

1

tsp

cinnamon

1/4

tsp

salt

1/2

cup

sliced almonds or other nuts/seeds

walnuts and/or hemp seeds are great

Greek yogurt, for serving (optional)
Instructions
Heat the oven to 375 degrees. Use oil spray or butter to grease a 4 large ramekins or one 9-inch baking dish or pie dish.

Mix the fruit with 2 tablespoons of maple syrup, lemon juice (if using), and cornstarch. Divide the fruit between the ramekins or spread in the baking dish.

Bake the fruit until it to begin to soften, 15 minutes.

While the fruit bakes, mix the oats, flour, almond butter, 1/3 cup maple syrup, cinnamon, salt, and nuts/seeds until you get a crumbly dough that holds together when squeezed in your hand. (If the mixture seems too dry, add more almond butter and mix again.)

Remove the fruit from the oven and crumble the oat mixture over the fruit. Return to the oven and bake until the topping is golden brown, 10 to 15 more minutes.

Serve the crumble warm or at room temperature with a dollop of Greek yogurt if you'd like. Or enjoy for dessert with a scoop of vanilla ice cream.
Save to Pinterest!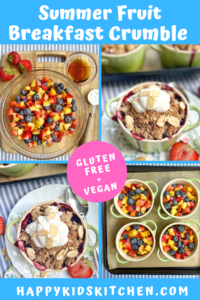 Other Breakfast Recipes to Try:
Banana Upside Down Pancake Bites
Kid Friendly Make Ahead Breakfasts